I am a theater girl. There's no denying how much I love going to the theater. I think it started when I was little. My mom and dad always had music on around the house. We grew up with country, classic rock, "elevator music" as I called it, movie soundtracks, and Broadway tunes. I've had
Joseph and the Amazing Technicolor Dreamcoat
memorized for as long as I can remember. Telling a story through music is a beautiful thing. I can remember the first musical I ever went to. It was
Damn Yankees
, featuring Jerry Lewis, at what's now called the Straz Center when I was in middle school. I can still remember what I wore (it was the early 90s so it was ridiculous) but it was the night I truly fell in love with musical theater.
I was so excited to go to the
Straz Center
last night for Opening Night of
Ghost the Musical
. The Hubs doesn't share the same love for the theater as I do so I asked my mom to be my date for the night. She loves the movie
Ghost
plus loves going to the theater so she made the most perfect date! We made great time over the bridge to downtown Tampa, which is completely unheard of at 6pm. We picked up our tickets and headed in. We got there early, thanks to no traffic, but it gave us a chance to catch up. With so much going on in our lives, it was nice to just sit and talk, even if I do talk to her every day.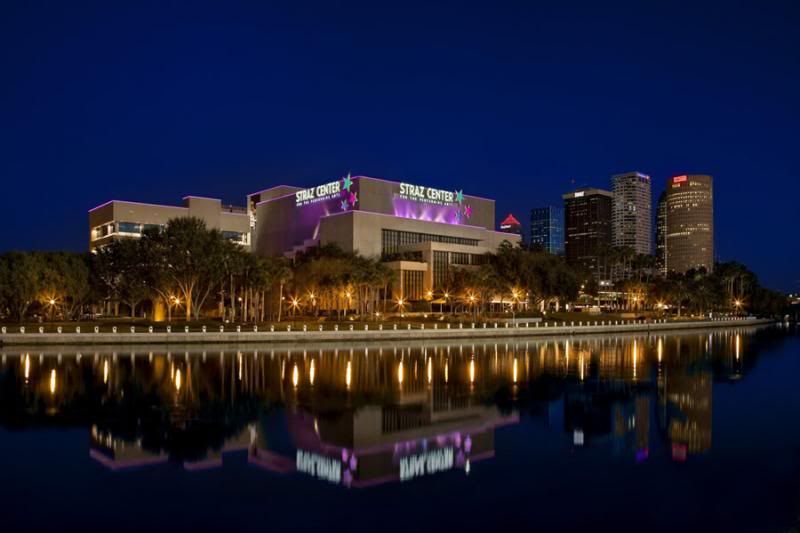 The gorgeous Straz Center


(photo by Rob Harris)
When the time came, we headed to our entrance and were escorted to our seats by one of the lovely volunteers. I was quite pleased with the view from our seats! I didn't know what to expect because I've never seen the movie
Ghost
besides the famous pottery scene. So I had nothing to compare the show to, which I think was a good thing. When the show started, I was instantly blown away by the set design. The use of video images and video screens in the overall set design was something I had never seen before! The visual effects they were able to achieve were hands down, the best I've seen. There is a scene where the cast is standing in the rain. It looked so real! And all that was used was a screen and video images of rain. Unbelievable!!!
I always stalk the Playbill to see what other productions cast members have been in. I was pleasantly surprised to see a lot of cast members list RENT in their resume. I love RENT so anyone that's associated with it wins points in my book. I knew I wasn't going to be disappointed! Stephen Grant Douglas, who played Sam Wheat, was Roger in a regional production of RENT and his voice fit the bill. He was fantastic! He did a great job of bringing the character to life (or death I should say). I'm sure it was hard to make it look like he was a ghost but he nailed it in my book! Molly was played by Katie Postotnik. She is absolutely gorgeous. I wasn't too sure about her voice at first and then she sang "With You", a song about how Sam's death affect her. It was in that moment that I was captivated by her. The tone and depth of her voice was absolutely beautiful. Katie and Stephen, besides having amazing voices, had great chemistry and their voices sounded perfect together. Whoever cast these two in these roles did an amazing job!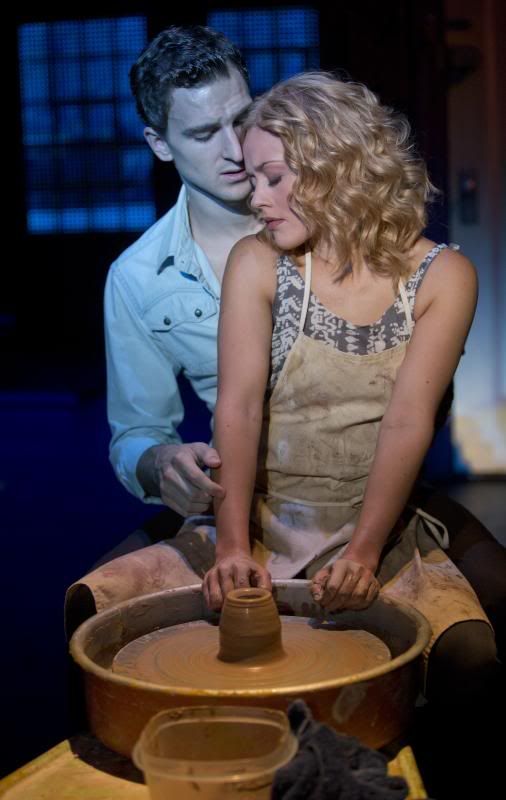 Steven Grant Douglas and Katie Postotnik, Ghost The Musical Tour. © Joan Marcus, 2013
As for the story, it was just okay in my book. Don't get me wrong, I really enjoyed the show but I didn't identify with it as strongly as I have other shows. My mom had mixed reviews about it because it was quite different from the movie. She came in thinking it was going to mimic the movie plot and there were only a handful of scenes from the movie. I did not have anything to compare it to since I have never seen the film. I think that helped me to appreciate the show a little more than she did.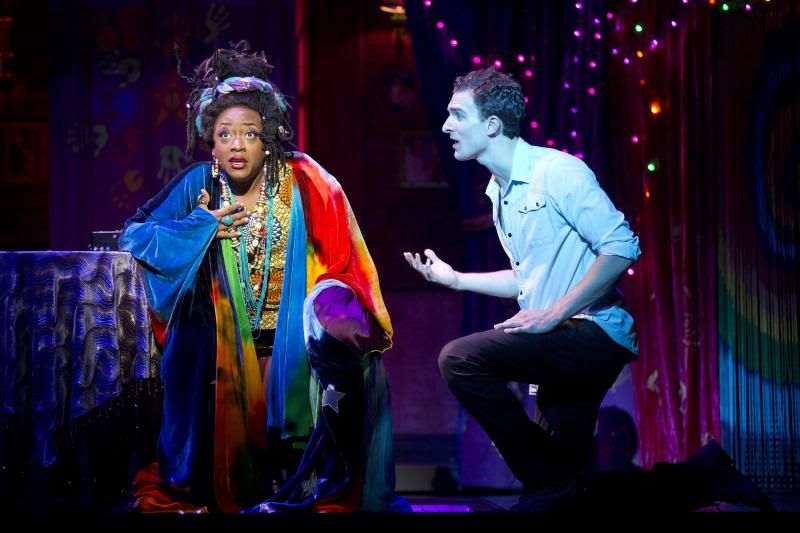 Carla R. Stewart and Steven Grant Douglas, Ghost The Musical Tour. © Joan Marcus, 2013
While the plot might have missed the mark a little, the technology and set design really won the show for me. I sat in complete awe of it. They were able to create a distinction between Sam and the other ghosts from the living people and were able to do it when side by side with another person (as seen in the above pictures). They were able to create depth on a flat stage. When someone died and became a ghost, it happened in an instant. You were left looking at the person as a ghost and a human at the same time. It was truly magical. I don't think I can say enough about it!
Overall, I enjoyed the show. Is it the best show I've ever seen? No but it wasn't the worst I've ever seen. Would I recommend going to see it? Absolutely! But for all my Tampa Bay area friends, you better act quickly!
Ghost the Musical
will be at the
Straz Center
through April 27th! If you're not in the Tampa Bay area, you should try to see it when it comes to a theater near you on its first national tour!!!
Thank you to the amazing people at the
Straz Center
for partnering with the
Tampa Bay Bloggers
! I was able to attend this production in exchange for an honest review. All opinions are 100% my own! This is theater people...I take it very seriously!