Disclosure: I received a free product in exchange for this review
My son has many obsessions. He's an almost 7 year old boy. They love a lot of things. One thing he's been in to for a while now is Angry Birds. The Hubs got him hooked on the original version of the game on our phones and every version there after. Now that he has his own iPad mini, he has every version of the game on it as well. Star Wars Angry Birds is his absolute favorite! He started collecting the figures and has quite the collection. He was more than excited when a package showed up at our doorstep from Hasbro Games. We ripped opened the box to find the Angry Bird Star Wars Telepod Death Star Trench Run and an Angry Bird Star Wars Telepods figure pack. We quickly opened each item and got to playing!
Angry Birds Star Wars Telepods Death Star Trench Run
Noah has been dying to get an Angry Bird play set. This set comes with 2 figures (1 exclusive to the game), a Telepod base, 1 X-Wing Starfighter launcher, 8 blocks and 1 ramp. We chased the launcher around the house for a while. Pull back and off it flies! Noah and Emmy both loved taking turns setting up their structures and sending their launcher to knock it down. It was fun to watch them playing together, taking turns, and getting creative in how they were stacking their blocks. I know for a fact more of these play sets will be towards the top of Noah's Christmas list this year!
Angry Birds Star Wars Telepods Figure Pack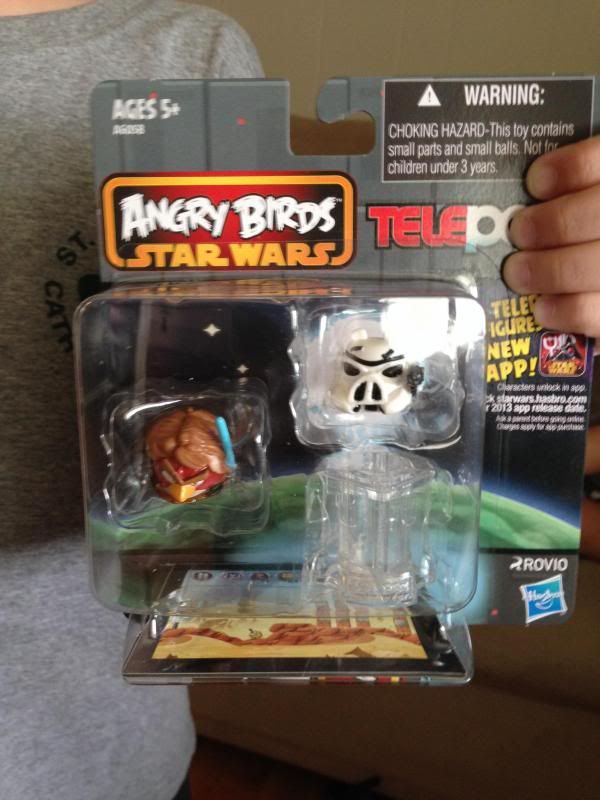 Our new additions....and the Telepod base!!!!
Noah was also able to add 2 new figures to his Angry Birds collection. But this wasn't your ordinary Angry Bird figure pack. This figure pack contained the key to unlocking hours of excitement. With the release of Angry Birds Star Wars II, you can teleport your figures into the game! Yep, you heard right! You can now see your figures in action on your smart device. All you need is your smart device, a Telepod figure, and the Telepod base. Simply place the Telepod base over your device's camera, attach your figure, and BOOM. Your figure is now in your game! And to make it more exciting, you can now play on the "Pork Side" and fling the evil pigs. Noah was counting down the days until the new app arrived. Now he's teleporting his birds and pigs into his games. (I've even secretly teleported some of the figures into the app on my phone! It's really cool technology!!!). To learn more about the app, check out
starwars.hasbro.com
.
You can find these awesome toy sets at local retailers. The Angry Bird Star Wars Telepod Vehicle Packs retail for $19.99 each and the Figure Packs retail for $5.99 each. But lucky for you, Hasbro has been kind enough to offer one lucky reader a Vehicle Pack and Figure Pack of their very own! Just enter below. Don't miss out on this one!!!
a Rafflecopter giveaway
I received free products from Hasbro Games in exchange for this review. No other compensation was received. All opinions are 100% mine (and Noah's).