Let's jump in the time machine and head back to the summer. Emmy turned 4 in August and, of course, wanted a Princess Party. Every party she's ever had has been a princess one. She was a 1st Birthday Princess. Then there was Little Mermaid and Brave. So which princess would be the lucky one for her 4th? Rapunzel of course!!! So I did what any good mom would do....create a party board on Pinterest!!!!
I had originally bought the standard party store decorations but with a week to go before the party, I shifted gears and went completely homemade for everything. I made the Hubs take most of the decorations back and used the money for my craft supplies. I found a few pins for bunting and other decorations. I cut out the sun logo that's seen throughout Rapunzel's kingdom and got to work. I painted it on the bunting. I made paper lanterns. I braided 25 feet of yarn to make a Rapunzel braid to decorate our entry way with. Each girl got a Rapunzel braid on a ponytail holder to wear for the party. I even made the Magic Golden Flower that gives Rapunzel's hair its magic powers. I might have gone a little overboard for a 4 year old's party but I had so much fun doing it. I have set a high standard for myself for future parties though.
Without further adieu....Emmy's decorations!!!!
Making my templates for the bunting and paper lanterns
Paper lanterns in full effect
Tea staining my Wanted Posters
25 foot Rapunzel Braid
Rapunzel braids for all the girls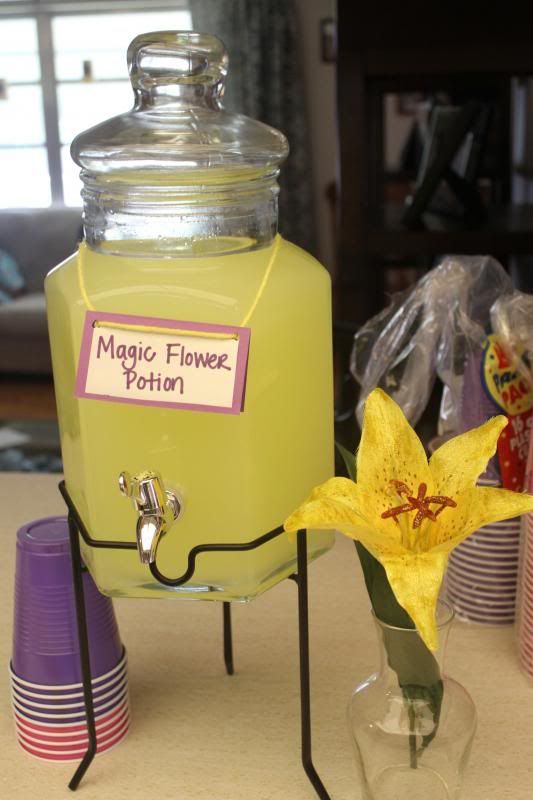 It turned out really nice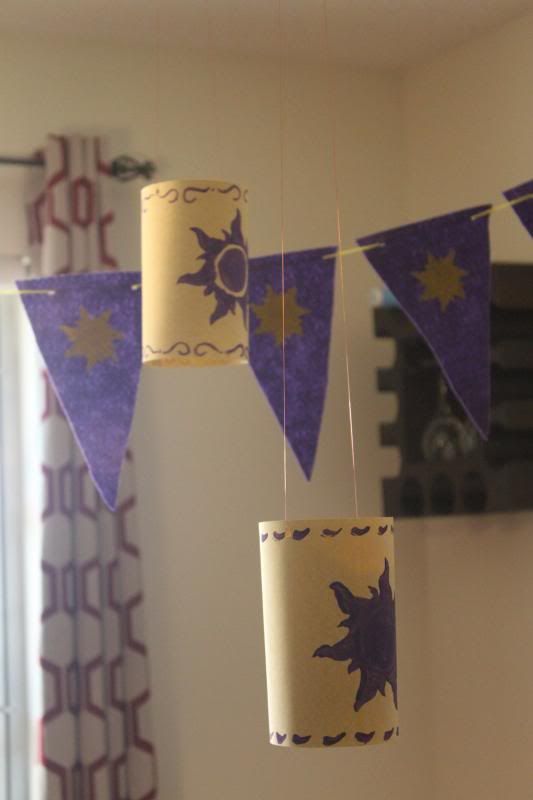 I love the way the lanterns looked!!!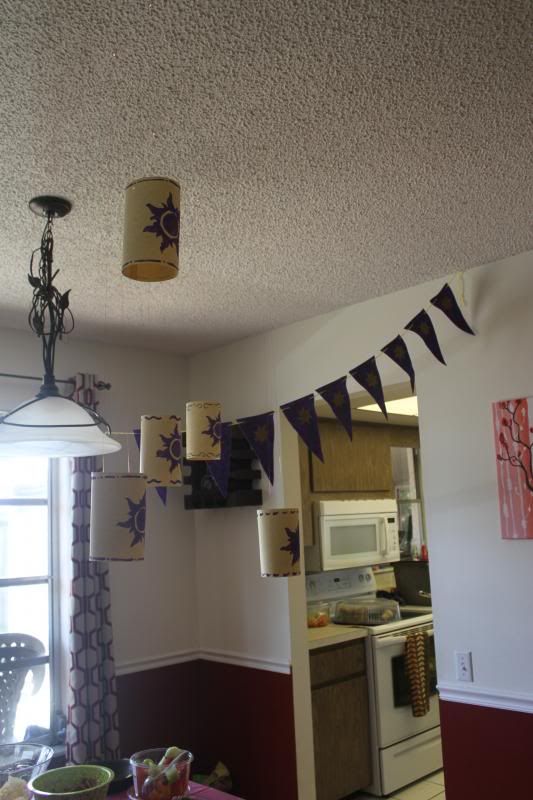 I'm so happy with how it turned out. I don't know if I'd change a thing. It wasn't overtly Tangled but if you saw the movie, you appreciated the touches I did. I'm so thrilled with the cupcakes I made that they're getting their own post!!! Probably the most exciting thing that I've done so far in my baking career!!!!