Happy Sunday everyone!!! Figured I'd squeeze a little blogging in while the Hubs is asleep. I haven't linked up for a Sunday Social in a while so here we go. But first, I'm guest blogging for the lovely Melissa while she's on her Disney Cruise (I'm jealous!) Check it out
here
.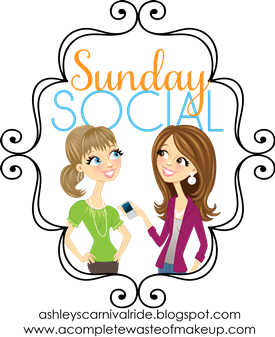 1. What is something you have wanted to do but are afraid of?
Go back to grad school. I went back to school a few years ago to finish up my BSN and let me tell you....it was hard work juggling school, work, and a family. I was only taking part time classes which helped but I had a baby in the middle of it (along with a stint on bedrest). I can't imagine how it would work now that my life is so much different. Plus I don't know what I want to be. Do I want to be an ARNP? Do I want to be a nurse educator? All the burning questions that I just can't seem to answer yet.
2. Where do you see yourself in 5 years?
Happily married for almost 12 years. My kids will be 10 and 8 so I'm hoping I'm not thinking about killing myself because of middle school attitudes. Hopefully I'll be in grad school by then. Just enjoying life and my family.
3. What are you looking forward to before the end of 2012?
Christmas!!! I just love it! But there's the rest of college football season, the end of the baseball season, Emmy's first dance recital, and the list goes on and on.
4. What are your hopes for your blog?
I started this blog as a way to update my family on my life (and I'm not sure any family actually reads it...oh the irony) but it has evolved into so much more. This is my way to remember my life, remember the amazing times we've had, a way to document each and every thing. But it's also turned into something I care about. I love that people actually read it and follow me. I take pride in how it looks and what I post. I just hope that I continue to be true to myself, enjoy blogging, and enjoy the ride!
5. Do you always see yourself living in your current town/city?
Yes and no. The Hubs and I moved away and came back once we started a family. This area is home for us. It's a great place to live, work, and raise a family. But I've always pictured myself living in NYC. I'm slowly working on the Hubs to make it happen. I think when the kids are away at college we'll end up moving there for a few months. That would be ideal. Although I'd love to move the entire family up there right now!!!! But I'll take anything I can get!
6. What's your morning routine?
I really don't have one. I'm not a make up girl (as in I really don't know how to do it so I wear very minimal make up, if any) so I don't need to wake up too early. If it's a work day, I'm up by 5:45, I hop in the shower, iron my scrubs and the kids uniforms, and make my lunch. I'm out the door by 6:15 at the latest, hair still wet in a ponytail/bun. I usually swing by the Starbucks drive thru and I'm at my desk by 7. I'm not a morning person at all so I'm all about being up as late as I can and getting through the morning as quick as I can.