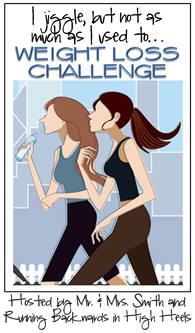 My big weigh in revealed....
Nothing.
I didn't lose any weight at all :( If I knew how to make the sad face bigger, I would.
But I guess maintaining my weight is better than gaining weight. I was pretty faithful with MFP and got some exercise in. I was very aware of what I was eating too. I'm a little bummed by this week but I'm not going to let it get me down. I was giving MFP a week to see what my results were by using it alone. This week, I'm headed back to WW with my momma. With WW and running in my back pocket, I should be unstoppable!!!
My goals for this week are:
1. Actually lose weight
2. Increase the amount of running/exercise
3. Drink more water
My new job (which I love...more on that later) is going to allow me to add more water to my daily intake. I'm never too far from my water bottle. I think this is going to be a great help in the long run. I'm going to attempt to get up and run before work. And I use the word attempt because I've already tried that one day this week and failed miserably. I'm not a morning person by any stretch of the word so it's going to be a hard thing to start. But my goal, once I get used to my new schedule, is to run every morning. I'm going to need some support with this one.
I'm so excited to see so many great weeks! I can't wait to see how everyone does next week!!! Thanks again to
Lindsey
and
Rachel
for hosting this challenge!!!