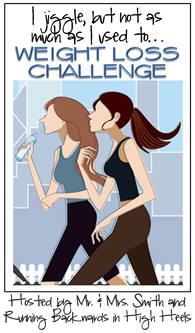 Hi. I'm Jessica and I'm a yo-yo dieter. There. I've said it. I have had a problem with weight ever since I can remember. I've done Weight Watchers with much success many times. Most recently, I've lost 25lbs (only to gain about 10 back) and it's time to get back on the wagon. I'm not loving where I am right now and I know I'll feel a lot better once I start my weight loss journey again. And I need to start exercising again. I do Zumba occasionally and run way less than I should. But this Weight Loss Challenge over at
Running Backwards in High Heels
is a nice way to get a jump start.
My goals are to lose another 30lbs, maybe even 40 since I've gained some of the weight back that I lost earlier. I'm done having kids, since I have the most amazing 2 children in the world, so there's nothing holding me back. I also want to become a runner. I've done 2 half marathons (Disney Princess Half Marathon in 2010 and 2011) and I've done a 5K with another one in 3 days. I've never been a runner and I don't really like it. But it makes me feel so much better once I've done it. There's something empowering about proving yourself wrong. I never thought I could run and I did. I have medals hanging on my mirror showing me every day that I can do it. Now I just need to commit to it. Once everyone in my house gets healthy again (the plague has struck our home), I'm getting back in the swing of things with running.
Here are just a couple of various pictures of me through my weight loss journey this year. And I am very embarrassed by the older, heavier pictures but why not put it out there and be vulnerable.
After finishing my first Disney Princess Half Marathon 2010...yes I ran in the tutu
This picture was a wake up call. I can't believe how big I look. March 2010
It's a bad pic but my arms look so thin after 3 months of WW. August 2010
Looking and feeling great for Dannie's wedding. October 2010
Mickey's Not So Scary Halloween Party 2010
Christmas Party with my favorite girls from work. December 2010

After finishing our second Disney Princess Half Marathon 2011
It's so dramatic to see how much I've changed in a year but I know I can be so much more. I look forward to losing more weight and finding more of the real me.