Happy Father's Day to the Hubs (the only person I could ever imagine being the father of my kiddos), to my Daddy, my Grandpa's, and to all the Daddies out there!
I had such a good time with last week's Sunday Social so why not link up again?!?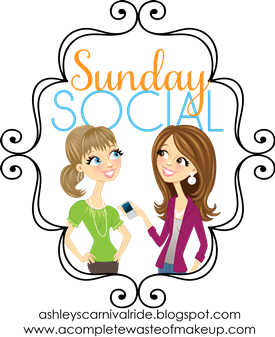 This week's questions are all about movies! I just love movies!!! So here goes.....
Favorite Movie of all Time?
This answer is a little weird. All time favorite movie is The Never Ending Story. It's an odd answer but I just love that movie. To Kill A Mockingbird is a very close second.
Favorite Movie Quote?
"Pregnant? With Emotion?" or "Positive. Positive. Positive." (or pretty much any great one-liner from Knocked Up). Oh then there's always the classic "weweese the secwet weapon" said in the best Fivel Mouskewitz voice, you know, American Tail.
Best Movie to Watch for a Girls Night In?
The Notebook or Love Actually...I'm a sucker for a good love story.
Best Breakup Movie?
I have no idea on this one
Favorite Celeb Eye Candy?
Ryan Reynolds...hands down
Which Movie Star's closet would you want to raid?
Sarah Jessica Parker's or Reece Witherspoon