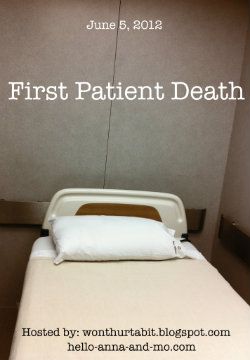 It's time to share some more stories from my life as a nurse.I can't thank
Renee
and
Ana
enough for this link up. It's giving me a reason to share why I love my job so much!!! This topic, however, isn't a warm and fuzzy one. It's about the one thing I feared more in my entire career.....a patient dying.
When I first started out as a nurse, I worked on a General Pediatrics floor (or Gen Peds as we like to call it). We had quite a mixture of patients. I sent my fair share of them to the ICU but never had to be a part of a code or had a patient die. When I moved back home and started working at All Childrens in Hem/Onc, I knew it would be a matter of time before I had a patient die. It was a short time after Christmas and we had a terminal patient who was on her last few days of life. She was a sweet girl with a sweet family. Her parents did not want her to pass at home because they didn't want to upset their youngest daughter. I was blessed to have taken care of this patient for an entire week. I had grown to love them. When things got very grim, I would pray that she would make it through my shift. I was not ready for that at all. And every shift, I would give shift report and she would still be with us. It got to the point where her family was ready to say goodbye. We started a Versed drip in the hopes that she would drift into a coma. It was that day I realized I was being so selfish. All this time I was thinking about myself. I wasn't thinking about these poor parents and these poor girls who were watching their daughter/sister slip away from them. I had finally realized that this was not about me. It was about this family and this sweet girl. I said goodbye to my patient who I grew to love because I had a few days off and didn't think she'd be with us when I returned. But to my surprise, she hung on.
I was getting report and we had her on a drip that is usually used only in ICU (we typically don't have anesthesia drips going but this was a special circumstance), so the nurse and I were in the room messing with the pump. I heard her dad stirring in the chair beside the bed. Her mom, her older sister and her father were with her. Her youngest sister was at home. I did a quick assessment, she was still hanging in there, and we left to finish up report. Since she was so unstable, I was only assigned to her that day. So once report was finished, I planned out my day and went back in the room. By this time, only about 30 minutes had passed. Dad was snoring in the chair. Everyone was asleep and looked so peaceful. I put my stethoscope to her chest and heard nothing. Panic set in immediately. I grabbed my charge nurse to confirm that I was definitely not hearing anything and then we got our attending who told the parents that their sweet daughter had passed. Of course there was tons of tears, tons of visitors, and tons of commotion for the next few hours. I was a mess but I was at least prepared for it. Once the family was ready to leave, her mom found me and asked if it was peaceful. I explained everything that happened that morning. I strongly believe that she was just waiting for her dad to fall asleep. I told mom that and it seemed to bring her some comfort. Mom embraced me and thanked me for taking such good care of her daughter and of them. As they left the room and the hospital, without their daughter, I couldn't help but picture myself in their shoes. I don't know how I would be able to walk away without my child. I hope I never find myself in their situation but if I do, I hope I will have the grace that they did on that day.
As we were preparing her to go to the morgue, I was so overcome with emotion. Everything I did, I did with tears in my eyes. And when it was all said and done, I made sure the love note her dad wrote to her was securely in her hand, I gave that sweet girl a kiss on the forehead and thanked her from the bottom of my heart for having such an impact on me, for making me realize that I cannot be selfish in this profession. She also helped me realize that death isn't something to fear. It is as beautiful as it is scary.
I have experienced more patient deaths since then but nothing will compare to my first. I will never forget the emotions that I felt that day. And it's because of those emotions and that experience that I can be a pillar of strength for my patients and their families as they go through one of life's most difficult yet most beautiful journeys.