I was debating whether or not to link up this week (but honestly...I'm a sucker for fun link ups) but realized that I have quite a few new followers on my little blog so I figured why not! So here goes my first installment of Social Sunday, courtesy of Neely and Ashley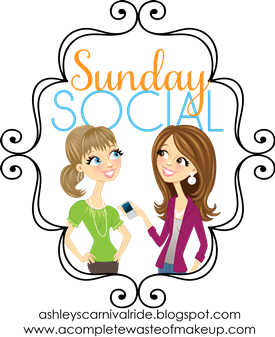 How did you come up with your blog name?
My blog name has changed since I first started. The original name was A Day in the Life of the Crimella's. Just rolls off your tongue, doesn't it? It started as a way to update my family and friends on my pregnancy/bedrest and then evolved into something else. It became more about life from my point of view and less about just family updates. After meeting up with the Tampa Blogger Gals and realizing that I hated my blog name, Life With My Loves was born and I love it so much. It defines what my blog is about, my life with the loves of my life.
What is your favorite thing about blogging?
I have met so many amazing people through blogging. Who would have thought that I would connect with people from so many places on such an amazing level? I've also found amazing girl friends through the process. I'm getting ready to have dinner with this
amazing lady
tonight!!! Plus it's awesome to have people in my life that actually "get" blogging
What is one thing you have discovered because of blogging and now can't live without?
Twitter and Pinterest. I know that sounds silly but I never even entertained the idea of a Twitter account until I met some bloggers IRL and they convinced me I needed it. Now I'm on it more than facebook. And I think Pinterest goes without saying....everyone understands this one :)
Facebook or Twitter and why?
I can't decide. I love Facebook because it's been a part of me for so long and I have all my pics on there. But Twitter is so much fun and totally sucks you in. Plus most of my bloggy buddies on on Twitter so that's how I can keep up with them (besides their blogs). So I just don't know......
If one celeb read your blog who would you want it to be?
There's too many to decide....Lauren Conrad, Rachel Ray, Carrie Underwood, plus a multitude of amazingly hot men (Luke Bryan, Ryan Reynolds, and the list goes on and on)
What is something you want people to know about your blog?
I blog because I want to. I'm not focused on how many page views I have or how many followers (I'm shocked I have as many as I have!!!) I go through periods where I blog every day and then there are weeks that I'm lucky to get one post in. I'm a little ADD so it's totally random on here. One day it's a post filled with pics from a Disney trip and the next post is asking for prayers after we lose a patient. But every post I write is from my heart. I'm also on a journey of opening myself up completely so there might be a little more emotional substance, more being raw, than there was before. All in all, it's just me!!!