I started our Fantasyland journey off with our voyage under the sea. Again, it was amazing!!! When I was at the movies this weekend there were previews for the New Fantasyland. It was fun to say "saw that" or "been there" before anyone else could! Yeah, I'm mean like that ;)
The next part of the Fantasyland expansion is the Beauty and the Beast portion. This includes Gaston's Tavern, Enchanted Tales with Belle, and the Be Our Guest Restaurant in the Beast's Castle. Now I've been waiting for the Beast's Castle from the moment I saw it and I'd been following the progress on
Disney Food Blog
for a while. I kept reading reviews and seeing pics and it made me more and more excited. Once we finished with Ariel, we headed towards Gaston's Tavern. We stopped in the little shop there too. It was awesome. You could buy wine glasses, dishes, tons of Beauty and the Beast items that I've never seen before. I was pining after a wine glass but didn't want to fork over the $15 price tag so I left empty handed. Em was able to stop Gaston and snag a pic with him.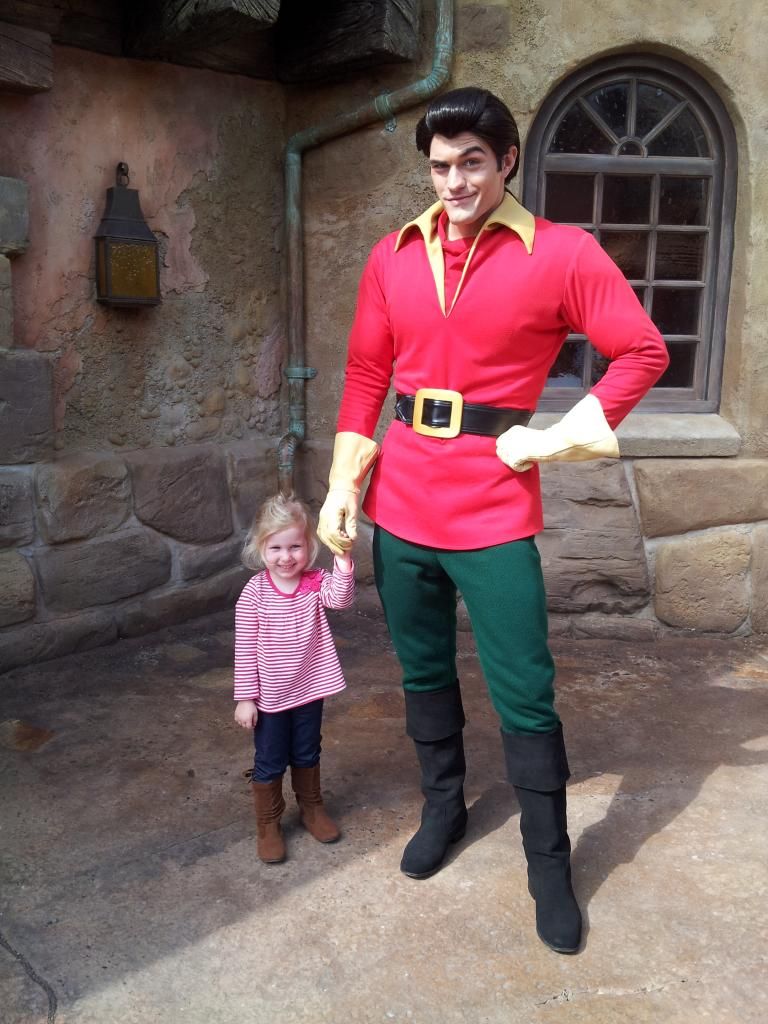 This cast member truly captured Gaston's arrogance! He was awesome!
This is a new concept (I think) for Disney. Gaston is a roaming character. He doesn't have a particular location where people can line up to meet him. The idea is that he roams the area, talking to (or poking fun at) guests and taking a few pics along the way. When we went, they hadn't quite worked out that whole situation because there was always a line and the cast member working with Gaston kept getting frustrated with everyone. But again, we were there during a preview and they were still working out the kinks. We stopped by the tavern later in our day for a couple glasses of LeFou's Brew: a frozen apple juice drink with a hint of toasted marshmallow. It was quite good in my opinion however it comes with a passion fruit-mango foam on top which was a little questionable. I had to drink it off each glass and it wasn't too pleasant. Next time we'll ask for it without the foam. And of course, in true "we're suckers for all things Disney" fashion, we spent the $10/drink to get it in the fancy souvenir cups (which I love BTW)
I didn't take too many pics inside for some reason. The tavern is quite small but it's decorated to the max with antlers, animal heads mounted on the wall, and a huge fireplace with a portrait of Gaston hanging above. It's definitely similar to the tavern he frequents in the actual movie. The fountain in front is by far the focal piece of the area.
Now keep in mind that these pics are all taken on my cell phone so they're not the best. Actually I'm really disappointed with them. I still don't know what happened to my camera that day. I think the memory card was faulty because I swapped out cards and it's working like a charm. Epic fail on my part.
We left Fantasyland after eating lunch at the Be Our Guest Restaurant (more on that later) and went on a few rides in other parts of Disney. But the kids wanted to go back to Fantasyland so we went back in. I wasn't sure if they'd let us because we had already left but we walked right back in, no problem. I'm pretty sure they were letting anyone with a wristband come in and out as much as they liked. I will say there was no true organization for this event, which was surprising.
When we reentered, the only thing we hadn't experienced was Enchanted Tales with Belle so we headed there. I highly recommend this for anyone with kids. You enter through Maurice's house and eventually end up in his workshop. There a cast member points out all of the things he's been working on. There's also a large mirror in front, one that the Beast gave him so he could check in on Belle whenever Maurice wanted. We all said a magic phrase and the mirror opened and we entered the castle. We walked through and were greeted by another cast member and the Wardrobe. She was talking up a storm. Definitely brilliant work by the Disney Imagineers. We were told we were going to be telling a story to Belle about the night that she and the Beast fell in love. They gave parts to all the kids and adults that wanted to participate and then we were led into the library. Lumiere was there and led the story. Belle came in and the story began. It was really cute and all the kids/adults got to have their picture taken with her. It was definitely worth the wait!
Lumiere starting to tell the story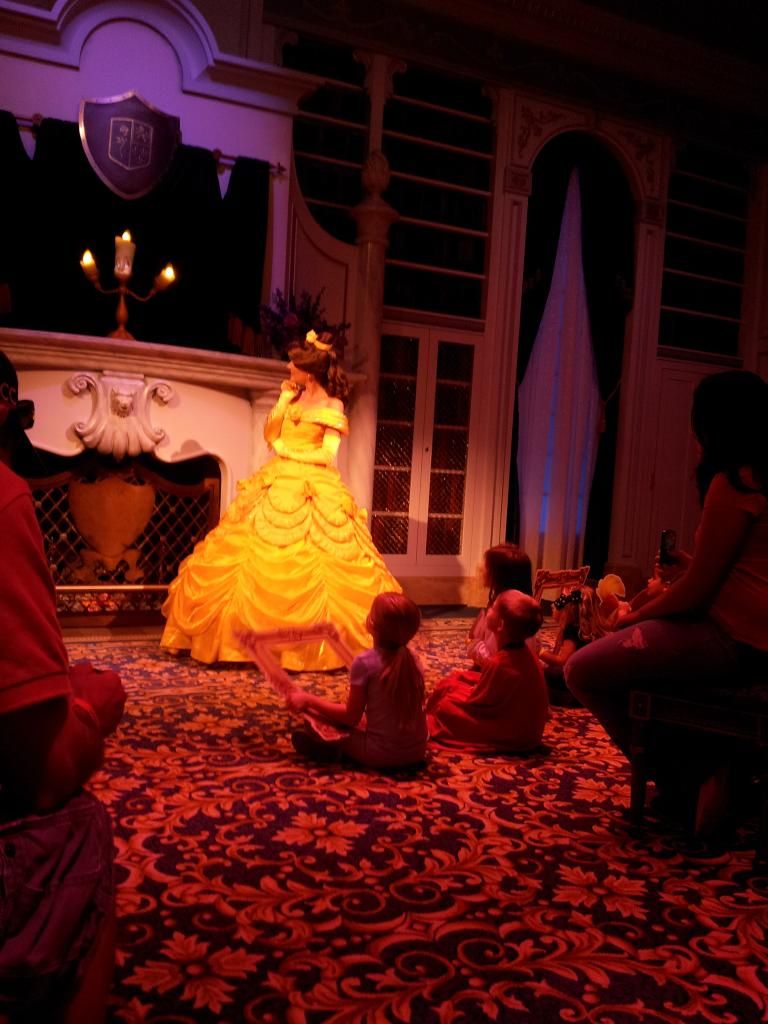 Belle joined us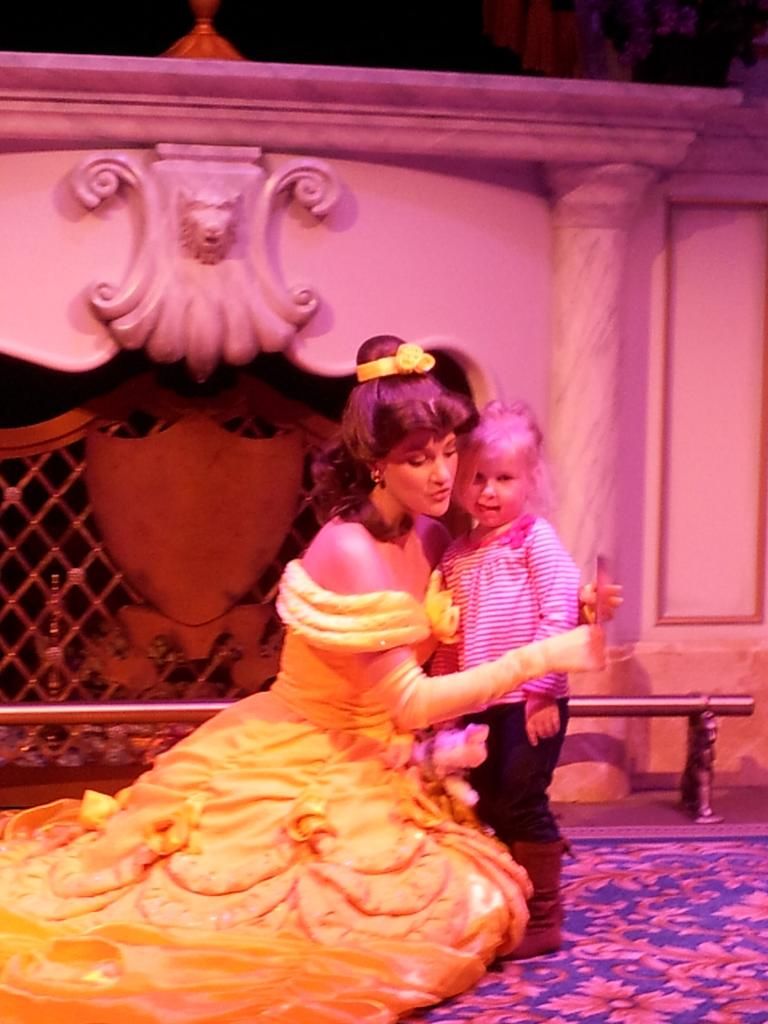 Belle and Emmy (who has her tongue out for some reason)
I'm sorry if all my Disney talk bores some people but hey, we're Disney fans! It's what our kids love and it's what we love. There's only 1 more post left and it's all about food! Then there will be a Disney break....I promise!!!