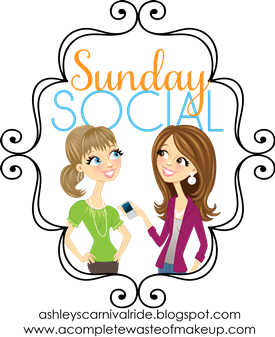 I haven't linked up in a while for Sunday Social so I figured why not. Em has had me awake since 6:30, the house is a mess, I have to come up with 17 small gifts for Noah's class stockings to send in tomorrow, but I think the first thing I should tackle is blogging. Don't you?
1. What is your favorite Holiday season tradition?
We haven't really created too many family traditions yet. We always get our tree on Black Friday and spend the entire weekend turning our house from it's regular state of chaos to a winter wonderland (full of chaos). We've tried to come up with a few staple activities for the kids so we've gone to the Botanical Gardens for their Holiday Stroll for a few years now.
2. Do you have a certain Holiday movie you watch more than others? If so, what is it?
Love Actually. I can't watch this movie without feeling festive, no matter what month I watch it in. It's up there on my fave movie list but it's definitely my favorite holiday movie. The kids seem to watch the classics over and over and over and over and....you get the picture. Rudolph, Frosty, the Grinch (the classic not the crazy Jim Carrey remake). All the good ones from my childhood.
3. Show us your favorite decoration or Pinterest decoration you wish you could have.
My house is a hodge podge of decorations. I went on a HUGE snowman kick for a few years. I'm kinda getting over them now that I'm getting older. I also collect nativity scenes. My favorite decoration of all time is my Willow Tree Nativity that my parents got me. Not only is it beautiful, it's something that I'll have in my family and will be able to pass it on to my kiddos.
This picture cracks me up because we don't have green walls anymore and we have a different entertainment center. But this is my most favorite Christmas decoration
4. Favorite Holiday Song?
No brainer here. "All I Want For Christmas Is You" Mariah's version. No one should ever be able to sing this song besides her. Oh and that little girl from Love Actually
5. Holiday Dessert?
I don't have any holiday specific favorites but I do make a mean Mocha Truffle and Peppermint Bark.