Hi. My name is Jess and I am a workout loser.
I've been secretly jealous (and seriously mad at myself) because I haven't been able to link up with
Meghan
and
Genna
. I've had a bit of an epiphany and kicked my healthy living (or attempt at healthy living) into high gear this week. I'm proud to sit here and have a post to share with everyone!
Sunday:
Noah wanted to ride his bike to my parents house so we could print pictures of his weekend with Froggy (more on this another day). So we tied Froggy to his bike and off we went. My parents live about a 1/2 mile away from us so I knew it would be a quick outing. I've failed a tad in the parenting department with Noah because he's still not riding without training wheels. He's close but he's not there yet. But boy, he was riding fast! Normally I can just walk quickly but I ended up jogging to keep up with him. So I decided to make this a little "training" run. It was a nice run/walk/run/walk session. It took about 20 min (I promise I can run a 1/2 mile faster than 20 min) but it let my body ease back into running. By the end of the night, my left ankle was killing me and I wasn't sure if it was because my body was in shock that I actually ran or if my new shoes didn't agree with me. But I woke up Monday morning feeling just fine.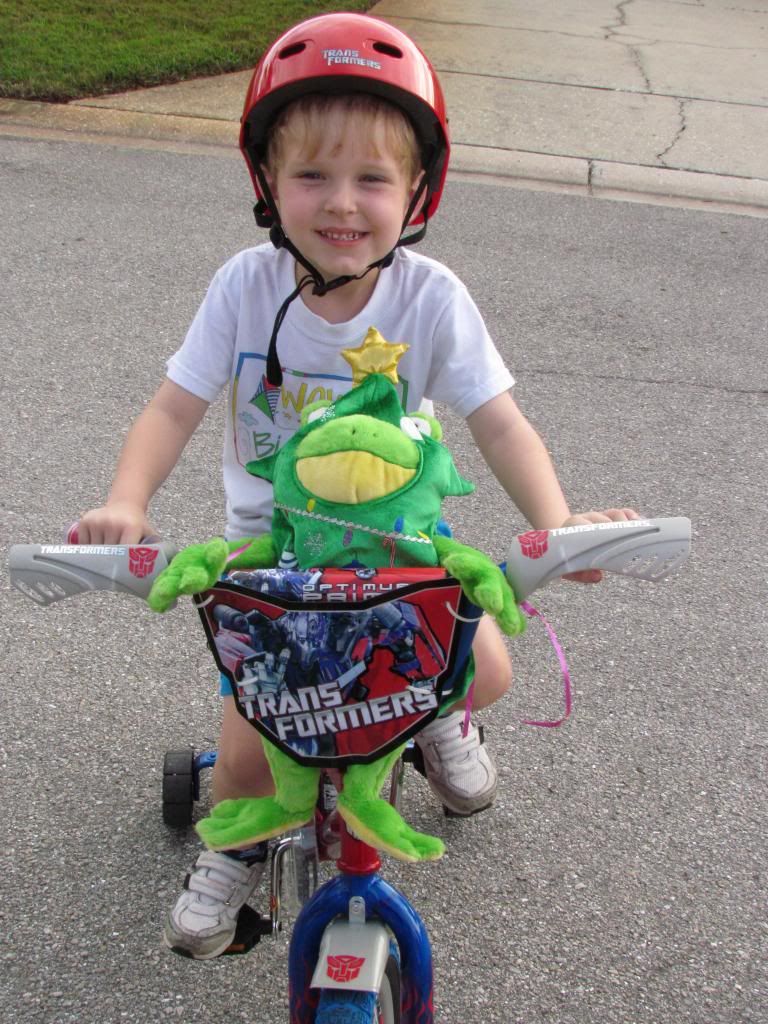 Monday:
I didn't get a run in. I took a day to recover from the busy weekend we had.
Tuesday:
I had a much needed reunion with my elliptical after the kiddos went to bed. I hope the Hubs was happy since our $900 elliptical has turned into a very expensive piece of Florida room decor. The machine itself might have been in awe that it was being used again. But we both got over that initial shock and had a great time together. This is where I get really embarrassed and ashamed. I ran for a whopping 20 minutes at a resistance level of 1. Yep. 1. O.N.E. I wanted to push myself from the start but, for once, I was smart about it and took it easy. I usually end up going balls to the wall and end up hurt. So it was nice to hop off the elliptical and be able to move rather than my usual "my body hates me and refuses to bend" feeling.
Wednesday:
No working out for me. This girl passed out at 8:45.
Thursday:
The kids had their Christmas concert so there was absolutely no time when I got home from work. I did end up with the cutest bunny and the most handsome little man on the planet! Proud Momma right here!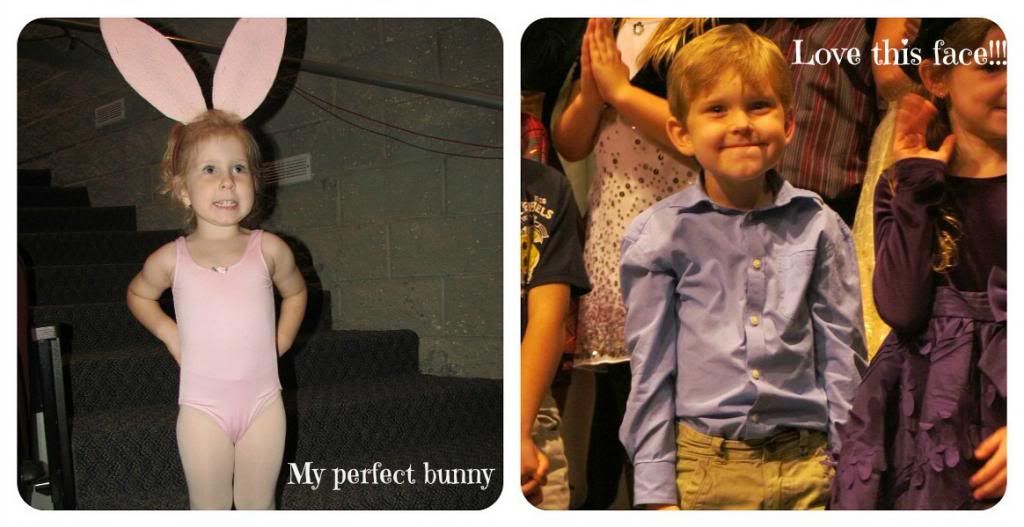 Friday:
Work kicked my rear end today. I usually work from 7-3:30 and I ended up working 7-6:30. Talk about a busy day. I need to start wearing a pedometer at work to see how many miles I end up getting in inadvertently. I'm sure I get in at least 5 miles a day.
Saturday:
Does folding 7 baskets of laundry count as exercise? It took me a LONG time and I was quite exhausted when I was finished.
So my week wasn't the greatest on the exercise front but I'm glad I got something in. I have to come up with a plan for this coming week because we'll be busy busy busy. Anything's got to be better than nothing so I guess I'm okay with the way this week went.
Here's my burning question for all the runners/active people out there. I need to find a great sports bra that will support a larger chest (aka my DD friends). I've always had issues in this department as long as I can remember. I used to wear 2 sports bras at a time when I was playing volleyball. It sucks. So now I'm looking for a great bra with tons of support. Any suggestions for what I should try?