How is it possible that it's almost February? I feel like yesterday I was decorating for Christmas and now I'm planning out my Valentine's Day decor, much to the Hubs's dismay. While I'm starting to get visions of Conversation Hearts in my apothecary jars, I can't help but get excited about taking the kids to the store to pick out their Valentine's Day cards.
I remember growing up when Mom would take us to the store so we could pick out the perfect cards to give to our classmates. And there were always the unwritten Valentine rule: your BFFs always got the biggest, best cards while that boy who liked you (that you didn't like in return), he got the one that had nothing related to love (don't want to give the wrong idea). Going through our mailboxes or bags was the best, especially with your girlfriends. Giggling about what boy gave you what card....oh to be young again!
Fast forward 20 years and I still get excited about Valentine's cards although it's a completely different ballgame now that I'm older. It's about sending love to our friends and family, near and far. And for me, it gives me a chance to share some of my favorite pictures of Noah and Emmy while sending a little joy their way. The Hubs doesn't understand it at all but it's something that I love. There's nothing more exciting than opening your mailbox and finding a card full of family pictures. It's one of those things that can brighten even the worst day.
With Valentine's Day around the corner, I am definitely turning to my friends at
Shutterfly
. Not only do they have amazing photo products, their cards are amazing. The paper quality is the best I've found and the print quality is stellar. And I've never been disappointed with their card designs. This year's
Valentine's Day card collection
might be my favorite! There's so many options I can't decide which ones to get. Flat or folded? Square or Rectangle? Black & White or color? 1 picture or many? They even have Erin Condren cards.
I'm telling you....tough decisions.
Here are some of the cards that made it to my "Must Send" list this year: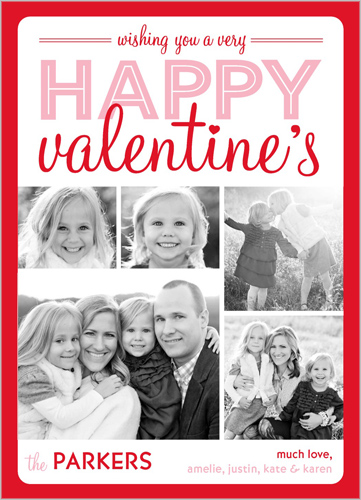 This one is my favorite (and is very similar to our Christmas card this year)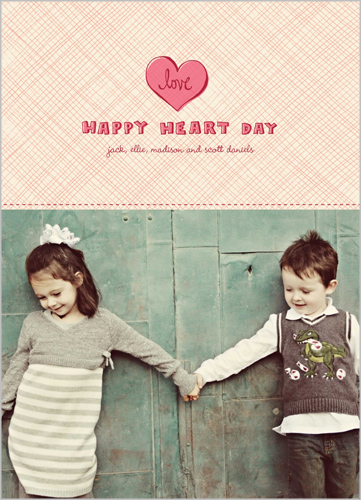 If only I could get my kids to recreate this picture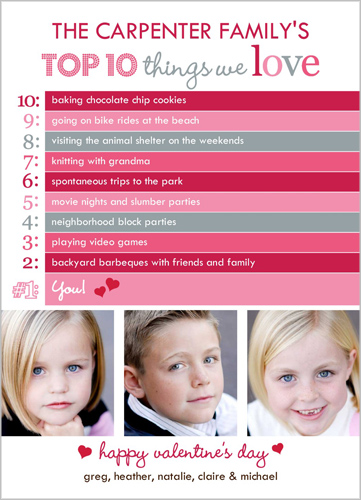 I love the idea of sharing family facts and memories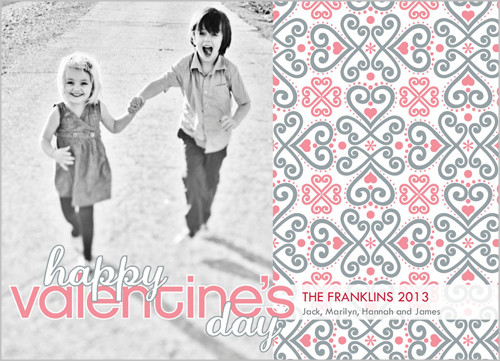 The colors. The pattern. Swoon!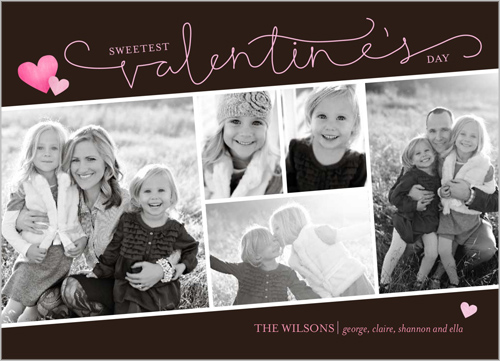 The brown is a little unexpected for Valentine's Day but I'm loving it
I used this card a few years ago: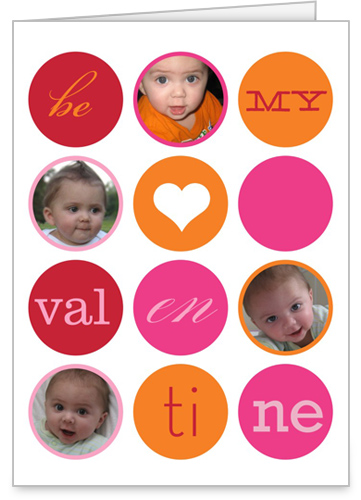 I still love the pink and orange combo
So what do you think? Which one should be the Crimella family Valentine's Day card?
Which card design have you fallen in love with?
How are you planning on sending your Valentine's greetings this year?
{side note.....I absolute adore Shutterfly and their products. I may or may not have a million orange boxes sitting on my dresser full of pictures and a couple photo books on display in my house. I can't get enough of them!!! Can't you tell?}