Almost 4 years ago, the Hubs and I bought our house. We fell in love with it the minute we walked in....or at least I did. The Hubs had to see past the original 1978 lime green carpet and bamboo wallpaper. I was 5.5 months pregnant and was having the time of my life. I now had my own house to decorate however I wanted. So we headed to Lowes to pick out flooring, light fixtures, and paint. Boy did I have fun in the paint department. A million colors to choose from. And boy did I choose color. Every room was a different color. Nothing neutral. I have absolutely no idea what I was thinking.
This is Pregger Brain at it's finest.
Fast forward 3.5 years, I pretty much hate every room. We finally redid the living room, which I'm now in love with. It went from green and brown to an awesome grayish blue. I'm so much happier with the way it looks now.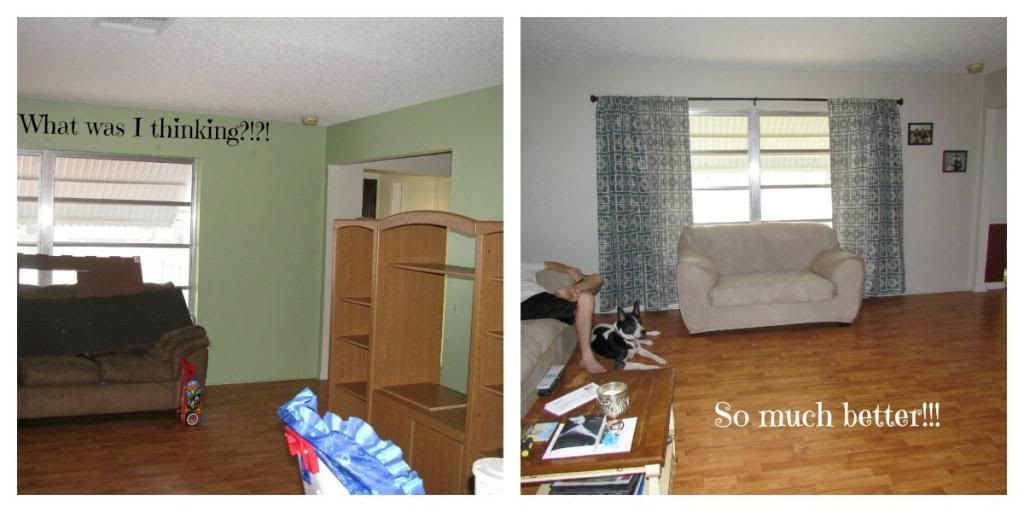 The kids bedrooms are next on the list. Noah's room is very blue. It's a crazy blue with deep red curtains. It worked for when his room was a Backyardigans theme when we moved in but now that he's almost 6, it's a little crazy looking. I'm hoping to paint the room a sand color. Em's room is one that I love though. It's a pale lime green with a raspberry trim. It matched her nursery bedding to a tee. Now she says "it's creepy" and "she doesn't like her room green." I'm trying to hold on to the color because it means she's still my little baby but I know I'm going to be heading to Lowes to choose a couple colors that I could live with....pale yellow, pale pink, etc.
The only rooms that I still like are our bedroom and our dining room. I'm pretty sure I only like the dining room because it was bare for a good year before I could decide on something. I'm absolutely in love with the red walls. I finally found the perfect curtains for the room. That was a 3 year endeavor in itself.
I'm now in the process of updating our bathroom. It dawned on me last week that I absolutely hate the bathroom. It's painted the same color as Emmy's room but that's about the only appealing part of it. It's a very tiny bathroom with horrible cabinets. The Hubs told me this past weekend that he hated the bathroom so that was my ticket to Bathroom ReDo!!!! I'm so excited for this makeover. Maybe even more excited than I was for our living room makeover. We're getting a new vanity, mirror, lighting, medicine cabinet, fixtures...pretty much everything is getting replaced except the shower and toilet. The Hubs is on board for my Grey and Yellow color scheme. I currently have 2 grey paint chips and 1 yellow chip taped to the wall so I can ponder a little. I'm pretty much sold on grey as the wall color. I just have to decide how dark. This room is going to be so sleek and crisp. I just can't wait!!! I've even started a
board
for it!
Just another reason why pregnant people shouldn't make big decisions....you end up living in a house where a rainbow threw up in it. You'll be miserable just looking at the walls and you'll spend a million dollars changing everything. Although it does give you a reason to put that
"House Pretties"
board on Pinterest to use!!!!