This week is going to be photo overloaded so I'm warning you now!!!
The Hubs and I did a lot of research when it came to picking a hotel. We've never stayed on Disney property with the kids before this trip so we wanted to make it a memorable one. I spent many nights online chatting with Disney specialists, trying to make sure we had the perfect room for our vacation. Our top 2 hotels were
Animal Kingdom Lodge
and
Art of Animation.
They were also at two completely different ends of the financial spectrum. While waking up every morning with a view of the African plain with giraffes and rhinos right outside our room was tempting, I couldn't see spending that much money on a hotel room, especially when Art of Animation had so much to offer us. So we decided to choose Art of Animation (AoA).
The nice thing about AoA is that it's the newest resort at Disney. They have 4 different areas all themed after popular Disney movies. They have a standard hotel style room in the Little Mermaid area as well as family suites themed as Lion King, Finding Nemo, and Cars. The Hubs and I had been to the property before just to see if it would be something the kids would like and fell in love (or at least I did). It's so bright and colorful and you can tell how much thought Disney put into the creation of this resort. Originally we were going to stay in a family suite (I think Noah wanted Finding Nemo) because they have a kitchenette and we were going to try to eat as much of our own food as possible. Then we looked into the dining plan and decided to go in that direction (more on that tomorrow). With the dining plan, we didn't need to have a kitchen so we opted to go with a standard hotel style room. We were able to do online check in the day before and requested a 12:00 check in time. We actually ended up getting there at 11:30 and our room was still ready! Kudos to Disney for making that happen!!!
The kids were in awe of the property. Noah even said "this is the most amazing place on Earth!" When you walk into Animation Hall (the main building), you're greeted by a wall of colors as well as sketches from each of the 4 movies. Most of it was concept art or beginning sketches but there were a few finished sketches. The light fixture in the atrium was beyond amazing. It was filled with sketches from the movies and Jodi Benson even signed hers!!! (she was the voice of Ariel). I was excited when I spotted it!!! I could have stared at it for hours. Disney did a great job of capturing the beauty in the artwork that their artists create.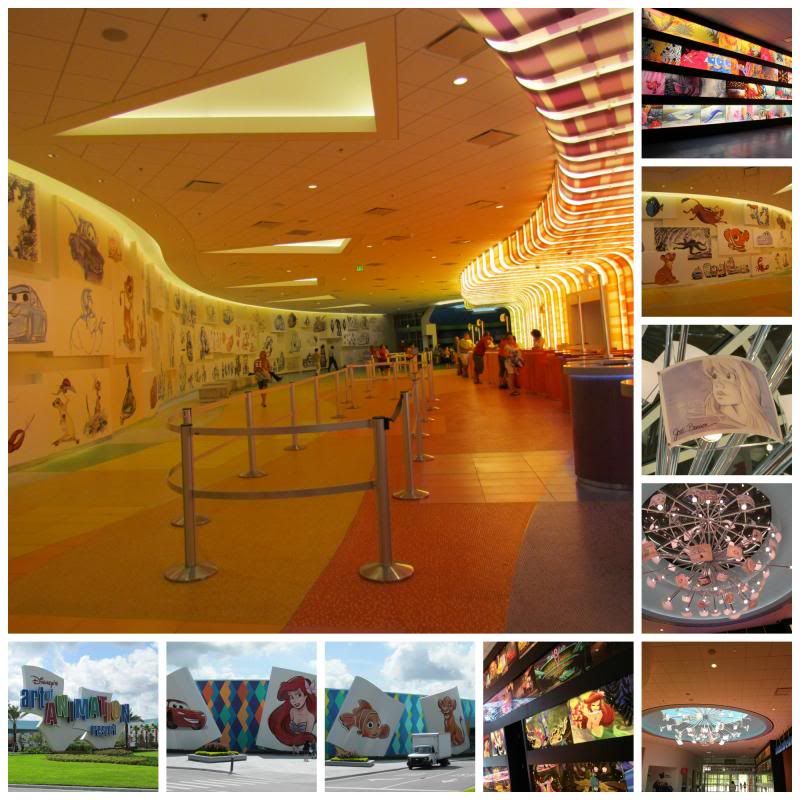 Animation Hall in all its glory!!!
Once we had our keys, we headed back to the car and headed towards our building. We were in building 8 which was at the complete opposite end of the property. There was parking right outside our building so we were very fortunate. We asked for a top floor room with a lake view but knew that we were earlier than our check in time and would be happy to have whatever room was available. Well we were in luck! We got a top floor and lake view! Plus we could see our car from the room so that was an added bonus. I got the suitcases unpacked, felt like we moved in to our new home, and the kids found all the Disney channels that they could watch. There was one that had all the old school Disney cartoons that we grew up with! It was fun watching them but even more fun watching our kids enjoy them too!
Our room was awesome (there's a video tour of the room on my Instagram feed)! Every aspect of it was like we were under the sea. From the ocean floor carpets to the shower that made you feel like you were stepping into Ariel's cave of human treasures, it was amazing! The table had the music sheets to "Under the Sea" on it with clam shaped chairs to match! The lights above the beds were bubbles! We even found a few hidden Mickey's in our shower!!!
We wanted to show the kids around the property but we also decided to start using our dining plan early so we headed back to Animation Hall to Landscape of Flavors, the food court area of the hotel. It was our time to explore everything that Disney created. The attention to detail was probably my most favorite part. The landscaping of each area truly matched the movie. All of the plants and bushes in the Little Mermaid and Finding Nemo areas looked like sea plants. It really looked like you were on the ocean floor. The Lion King area looked like you stepped into the African plains and the oasis of Timon and Pumba. The Cars area looked exactly like Radiator Springs. I mean these Disney Imaginears are outstanding!!!
The Little Mermaid area, complete with ocean floor plants, Sebastian leading the orchestra in Under the Sea, and the Dingelhopper!!!! Ariel, Ursula, and King Triton stand at the end of each building looking out to the pool. They're only 4 stories tall!!! We were in the Ariel building
When you walked through Lion King, you were greeted by Zazu then you see Scar, perched on a rock. They had an elephant graveyard and Timon, Pumba, and Simba walking across the area on a log. Rafiki and Mufasa were at the other entrance. Finding Nemo area had the Big Blue Pool, a state of the art pool. I'll probably do a post dedicated to the pools. There were 3 but we spent most of our time at the Big Blue Pool. Nemo and Marlon were at the Sprayground, Squirt was at the playground, while Mr Ray and Crush adorned the buildings. The silly seagulls even make an appearance! The Cars area truly looked like Radiator Springs, complete with the leaning tower of tires, the Cozy Cone Motel, and Lightning himself! You walked down the street that Lightning paved and saw all of your Radiator Springs friends along the way!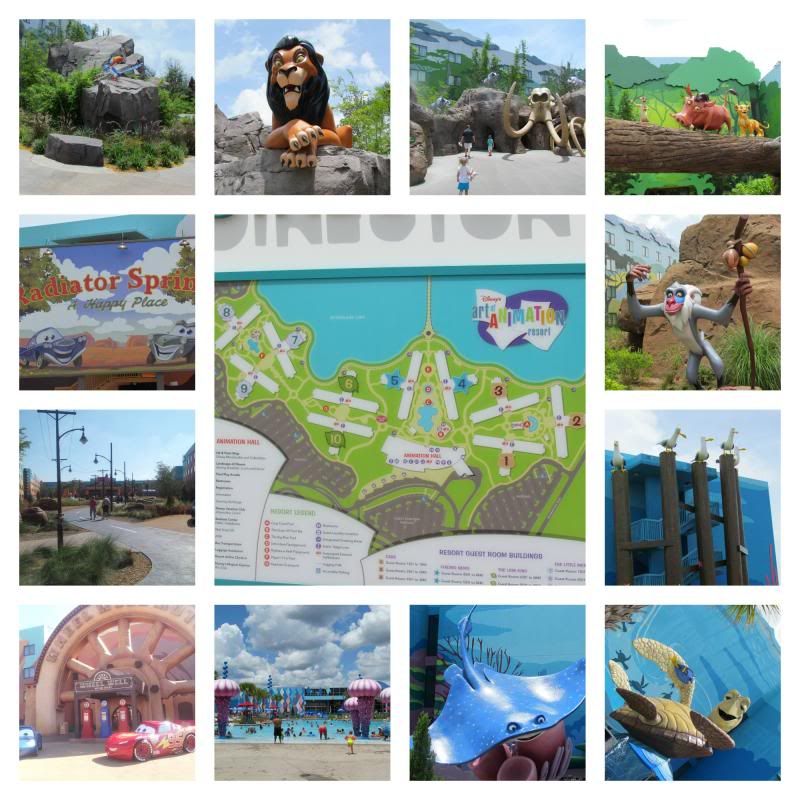 All the unbelievable details!!!!
We walked the grounds a million times a day and took pictures with everything! I think I have 3 sets of pictures of the kids with every statue, animal, etc, the hotel had to offer. I have about 7 pictures of the Dingelhopper alone (the fork). The kids never got sick of it and there was so much to look at as we traveled back and forth throughout the property every day. I couldn't be happier with our choice and I know the kids loved it too! I can see our family staying at this resort for many years to come! AoA should rank high up on the list of places to stay, whether it be families with kids or just Disney kids at heart!!!!
Up next.....FOOD!!!!!