Let's be honest....you eat a lot on vacation. It's inevitable. We were blessed with so many amazing food experiences on our trip! I was very nervous about the dining experience that I was going to have due to my severe gluten intolerance but fear not....I probably ate better than I ever had while I was at Disney! If you have food allergies, Disney is definitely the place to be!
Like I said
yesterday
, the Hubs and I decided against getting a family suite in favor of the dining plan and a cheaper room. Disney offers guests of their resorts the option to include a dining plan in their travel plans. This allows the guest to have an allotment of meals that are prepaid depending on the plan they choose. While we explored our Dining Plan options, we figured it was better for us if we bought the deluxe dining plan because it was a little less restrictive when it came to our food credits. There's about 4 different options ranging from Quick Service plans to Platinum plans. Quick Service means that you walk up to a counter and order food. Table service means you sit at a table and are waited on. The Deluxe Dining Plan allows each guest to have 3 meal credits (quick service or table service...it doesn't matter how you use them) and 2 snack credits per night spent at a Disney Resort. Other plans include just Quick Service dining or 1 Quick Service and 1 Table Service per day. Each quick service meal included a drink, entree, and desert. Table service meals included a drink, appetizer, entree, and dessert. You should never leave a meal hungry on this plan. We figured if we were going to spend the money on the dining plan (it can be quite expensive) we were going to eat at expensive places. My OCD totally kicked in and when we booked our vacation in February, I made all of our dining reservations at the same time. Disney recommends that you book dining reservations 180 days in advance so I jumped on it as fast as I could. It was a breath of fresh air knowing that we didn't have to stress about how much meals were going to cost or having to shell out money on snacks for the kids. And all of this was done prior to the discovery of my gluten intolerance.
I worried about eating at the parks for weeks until I stumbled across Sarah's blog,
Gluten Free and Dairy Free at WDW
. She blogs about all of her dining experiences at Disney while managing her allergies. Reading her posts made a huge weight lift off my shoulders! I emailed back and forth with her about dining strategies and any hints she had for me. I felt like I became a smart, more confident allergy diner. I went into vacation excited to see what the Disney chefs could do for me.
We ate a lot of meals at our hotel. Landscape of Flavors is an exceptional dining location. I think because Art of Animation is a newer resort, they put an emphasis on healthy choices when they created their menus. True you can get the normal cheeseburger and pizza but they also offered salads, smoothies, caprese sandwiches, pasta dishes, chicken burgers, and more. The kids ate like kings and queens there too!!! For an allergy girl, I had such a good experience. I was totally confident and had no problem talking to with the chefs in each station to see what they could offer me. On the first day, I was still a little unsure of myself but the chef made me an amazing pulled pork sandwich on GF bread. It was HUGE and delicious. The Hubs was so jealous of it that he ordered it the next day (gluten filled of course). I was dumb and didn't take pics of all my meals but I tried. For dinner, the chef made me a chicken burger with queso blanco cheese and black bean salsa with allergy fries (they have dedicated fryers and equipment for allergy orders). It was AMAZING! So good that I got it for lunch a few days later. I also had a few awesome salads and a great spinach, ham, and feta omelette.
Chicken burger....so good!!!!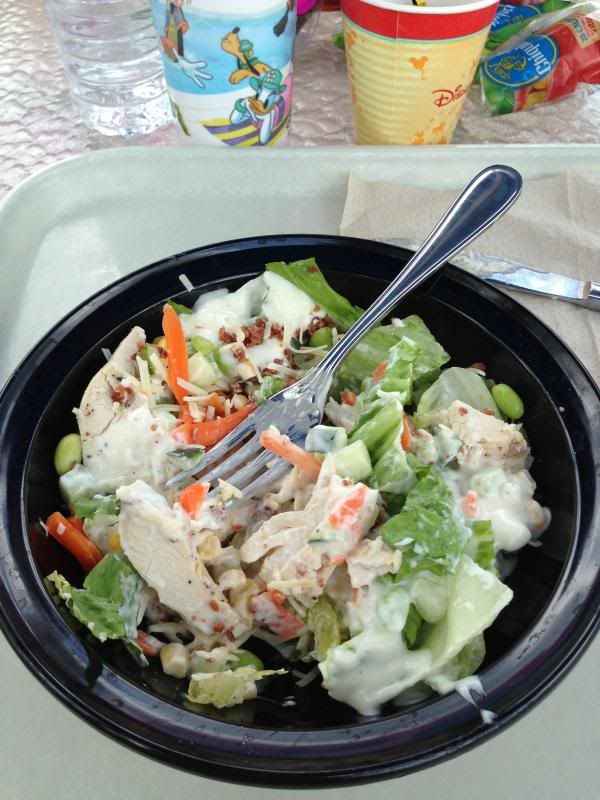 A bright and colorful salad under an umbrella at the pool
We did 4 Character meals (Chef Mickey's, Crystal Palace, Play N Dine, and Tusker House) while on vacation which meant buffets. Cross contamination is a huge concern for me but the chefs put me at ease. At each restaurant, the chef came out to the table and walked me through the buffet. He actually went dish by dish explaining whether or not it was safe for me to eat an item. If I had an item special ordered from the buffet, the chef was the one to take the order and he was the one to bring my food out. It was a such a personal touch that it made any insecurity I have about my allergy disappear. I left every single meal stuffed to the gills but without an upset stomach....win in my book!!!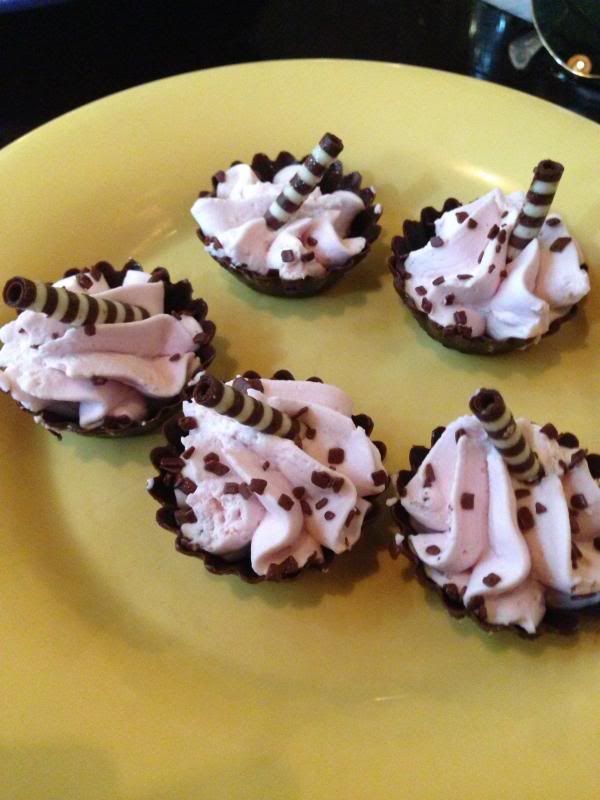 I might have eaten a ton of these since it was one of the only deserts I could eat (besides sorbet) all week. Strawberry mousse in a dark chocolate shell.....delish!!!! From Tusker House at Animal Kingdom
At the non-buffet sit down meals we had, I cannot speak enough about the chefs. Every single one was amazing and never made it seem like I was bothering them with my allergies. They made sure I had my own GF bread or rolls with my meals. They took the time to review each menu item that was safe for me to eat or how they could make it gluten free. They also brought my meal out themselves. Amazing Amazing Amazing
My seafood pasta from Tony's at Magic Kingdom.
GF pasta, shrimp, scallops, mussels, clams
Lunch from Princess Storybook Dining at Akershus at Epcot
Asparagus, green beans, corn and roasted chicken (along with an amazing appetizer of salads, salmon, shrimp, and cheese)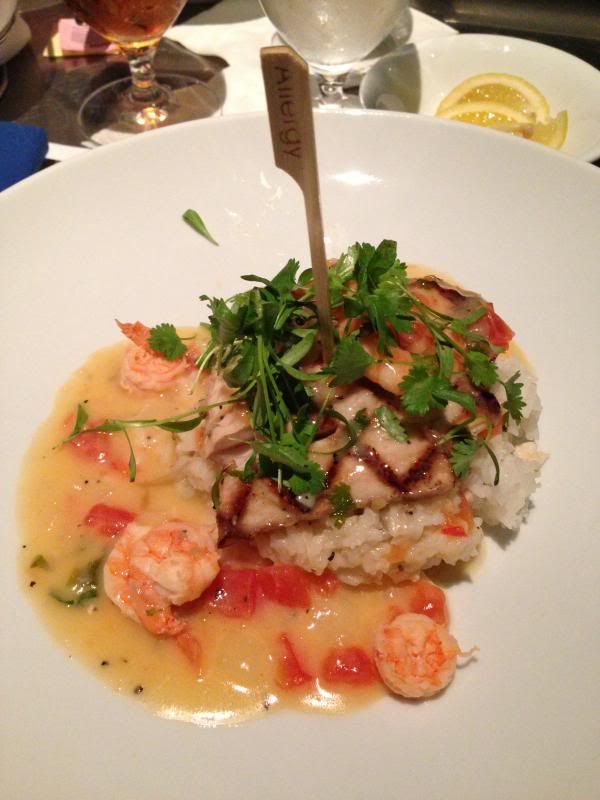 Dinner at Coral Reef Restaurant at Epcot
Mahi Mahi on a bed of jasmine rice with a lemon shrimp sauce
My cheese appetizer at Cinderella's Castle (yes we ate at the castle!!!!)
Goat cheese with fig jam, smoked cheddar, blue cheese with honey, and grapes
My Castle dinner
Tilapia with heirloom tomato/quinoa salad
This leaves us with desserts. I will say that desserts can be a let down if you have allergies. Most places had at least a sorbet or ice cream option for me. At our hotel, I got gelato, rice crispy treats, or BabyCakes NYC brownie bites. The Hubs got things like this: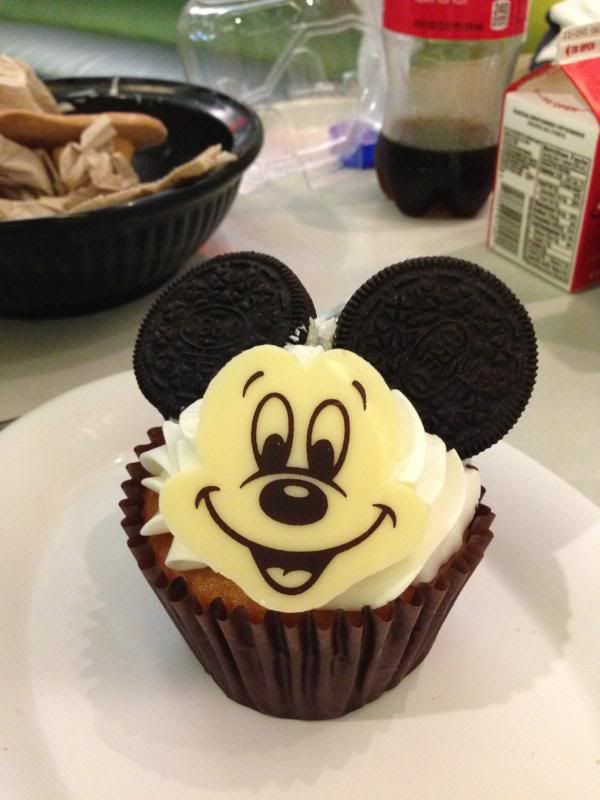 Or at dinners, he got chocolate cake or this amazing treat from the Castle:
"The Clock Struck Twelve"
White chocolate mousse in a milk chocolate shell on a graham cracker crust....I was so jealous!!!!!
I did get to eat a flourless chocolate lava cake from Coral Reef which was amazing!!!
I don't know why I can't turn the picture :(
Snacks consisted of drinks, cupcakes, chips, popcorn, bags of candy, cotton candy, and my favorite of all.....
A sweet treat from my favorite coffee shop that just opened in Magic Kingdom!!!!!!!!!
We definitely made the most of our dining experience and got our money's worth too! I would never stay for more than a weekend without getting the dining plan. It allowed us to eat at restaurants that we normally wouldn't eat at due to cost. Plus it adds to the memories we're making with our kids. We surprised them with dinner in the Castle on our last night of vacation. We would never had been able to do that for the kids if we had eaten at any of the character dining experiences. For us, it was the smartest choice. It might not be the best for everyone but the way we utilized it, it was worth every penny!!!!
Next up......Some of the fun we had!