I know I talked about our food experiences already but I didn't give gluten free dining the attention it deserved. I casually brushed over it for the sake of getting all of it in one post. But since it's a huge part of my life, and a huge part of our vacation, here goes......
When we booked our hotel and dining plan, I had not figured out that gluten was the cause of all my health issues. So we loaded our vacation up with character buffets and awesome restaurants. I follow the
Disney Food Blog
and get daily updates on the amazing food that Disney has to offer. And I won't lie...I love good food. It's probably the reason I'm the size that I am. Oh and the fact that I love bread. Rolls, breadsticks, biscuits, you name it, I love it! I was so excited to eat my way through vacation! Then we figured out my gluten intolerance :/
I was no longer excited for our vacation because what would I eat? Everyone would be enjoying the food and I'd be stuck eating the same thing over and over. The anxiety I had was enormous. I hate drawing attention to my allergy as it is. I hate being an inconvenience to anyone. And I also hate being one of those people who special order like crazy at restaurants. So I sulked for a while. Eventually I added my allergy to our dining reservations so they'd be on file. That was a huge step for me.
All of that changed the minute I found
Sarah's blog
. I love reading blogs on the gluten free life but her's was perfect for me. I finally found another person who loves Disney as much as I do and deals with allergies like I do (although the poor girl has to stay away from dairy too). After reading her blog posts and emailing back and forth with her, I became more and more comfortable with the idea of ordering according to my allergy. I gave it a trial run on a weekend trip to Disney with the Hubs. It definitely broke my stage fright since I had to ask them to call the chef for me. Since I survived that experience, I was ready for vacation!
When we got to our hotel and headed for lunch, I got my first taste at how the week would be. I decided what I wanted and waited for the chef to come talk to me. She was a little abrasive at first but she definitely steered me in the right direction. She told me that they had GF buns but they were extremely tiny so she suggested I order my pulled pork on sandwich bread that was charred. She was so right! The bread was HUGE!!!! Every dining experience I had in the hotel was great! All the chefs were awesome. One even carried my tray for me because I was trying to juggle myself and a very unhappy Emmy would was refusing to walk.
Chicken burger on the sandwich bread with allergy fries
The restaurant I was most nervous about eating at was Tony's in Magic Kingdom. Put a gluten allergy in an Italian restaurant and there might be a problem. I had reviewed the menu online a few times and had come to terms with the fact that I probably wasn't getting pasta for dinner. When we were being seated, like any of our other reservations, they made a point to say that the chef would be called to the table to discuss my allergy. Then the server would say the same thing. I loved that every cast member there was very aware of the allergy. The chef came out (I can't remember his name....I was really bad at that. Next time I need to make a note of the names) and reviewed the menu with me. He even said they could do a pasta dish for me!!! It was settled....seafood pasta for this girl!!!! He made sure GF rolls came out too!!! My dinner was probably the best GF pasta I've ever tasted! I really couldn't tell the difference. It was so big that I didn't even finish it (which I felt bad about). Dessert was ok. I had the pistachio creme brulee. I'm not a huge creme brulee fan but it was okay. I also really liked the fact that the chef was the one to bring my food out to me. It made me feel just a little bit safer knowing that he was handling the food.
Seafood pasta with GF pasta, shrimp, clams, mussels, scallops and calamari
I had similar experiences at Coral Reef and Akershus Royal Banquet Hall in Epcot and Cinderella's Royal Table in Magic Kingdom.
We had 3 buffet meals on vacation. We ate breakfast at Chef Mickey's at the Contemporary and Play N Dine at Hollywood Studios. We had lunch at Tusker House at Animal Kingdom. Our first meal outside of the hotel was at Chef Mickey's. It was also our first buffet experience. We got seated, everyone made a point to let me know the chef would come out, then the Hubs went to get his food. Well wouldn't you know the chef would come out and want to walk the buffet while he was gone. He was nice enough to say he'd come back so I didn't have to leave my kids alone at the table. When he did come back, he walked me along the buffet line, reviewing each dish available stating whether it was GF or not. He also said they could make Mickey waffles for me if I wanted. I, of course, accepted those! We went back and enjoyed our breakfast. The down side was my waffles never came out! I was totally bummed but I survived. It was crazy busy and he came out to every table that was in our area I think. I was amazed at how many people have food allergies! Strength in numbers I guess.
I thoroughly enjoyed every dining experience I had. I wish desserts would have been a little better (you can only have so much sorbet while others are eating gorgeous cakes and desserts) but I was so impressed.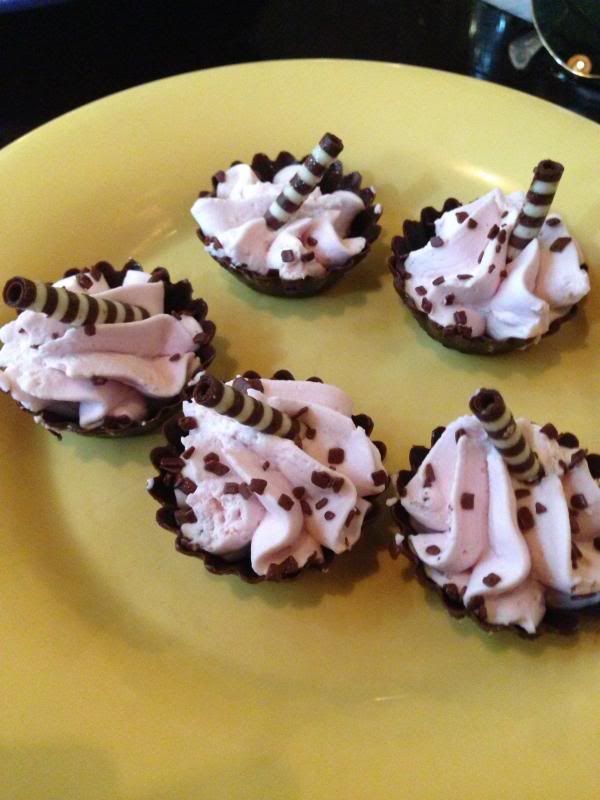 Strawberry Mousse in a chocolate shell from Tusker House. Only 1 of 3 desserts I had that wasn't sorbet
The care that the chefs put into the dining experiences is top notch. Allergies are embraced not looked down upon. I never once felt bad about having to eat something other than what was on the menu. I also never felt like I was missing out on something. That was a big deal for me because until this trip, I looked at my gluten issue as more of a "Scarlett Letter" kind of thing. I had never accepted it. But after this vacation, and knowing that I can eat amazing food not having to sacrifice my stomach or health, has made me more confident in my eating. I don't dread going out to eat as much. I don't have a problem asking a server to check with the chef to see if I can eat something. It's helped me truly realize that this is what I need to do to be healthy and I deserve to get what I need.
Thank you Disney Chefs for the amazing gluten free dishes you've created (and those extra pounds I gained)!!!