If you've never been in Cinderella's Castle, you are seriously missing out. I'm lucky enough to say that I've been inside the castle 3 times now. The Hubs took my for dinner there for my birthday the first year we were together. It was amazing. Then for our anniversary last year we went again. He managed to snag a table by the window so I could see the fireworks as we ate. He's not a dummy that Hubs. He's a good one! So when we booked our vacation, we decided that we were going to celebrate our last night in Orlando in Cinderella's Castle. We kept it a surprise from the kids for months. I'm so proud of this! 5 months is a long time to spell "castle" around a kid that can spell now. It's a daunting task.
We spent all day Thursday hanging out at the hotel. It was our "pool" day. Then we got all dressed up and headed to our "secret dinner." Noah had fun trying to guess where we were going based on where we were on the road. He was excited for Magic Kingdom but never thought we'd be eating in the castle. We had a minor behavior issue prior to dinner but everyone calmed down and ended up having a great time.
When you enter Cinderella's Castle, you're greeted by the princess herself! Everyone was excited to take a picture with her and it turned out to be the only family picture that I got all week that is "wall worthy" aka I can hang it up. Both kids were smiling! Mom win right there!!!
Our family picture from vacation
Then, in grand fashion, our name was called to head up the beautiful staircase to the dining room. Once in the dining room, we were escorted to our table where we were referred to as "Lord" and "Lady" all night long. A girl can get used to that!!! The kids were each given a blue wishing star (to be used in a wishing ceremony later on) and a sword/fairy wand. They were big hits! Throughout the meal, different princesses were introduced and made their way around to every table.
I promise she's happy
Handsome man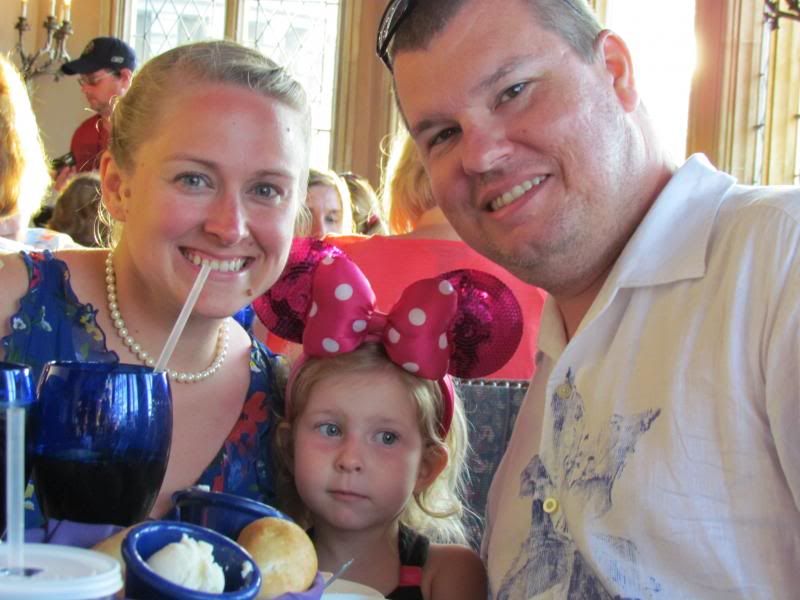 I will be photoshopping that straw out of the picture later(and maybe Emmy's ridiculous facial expression)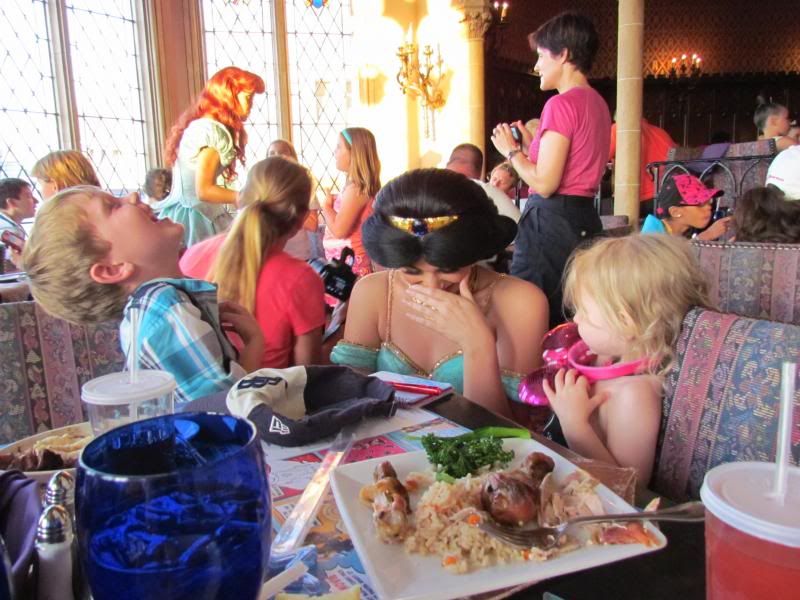 Poor girl didn't stand a chance. And notice how funny Noah thinks he is. Priceless moment.
I won't even begin to talk about the food. It's amazing! Hands down, one of the best places to eat at Disney. 3 courses of amazing flavors. The Hubs dreams of the steak he's had there. And the kids get to create their own cupcakes. How cool is that?!?!?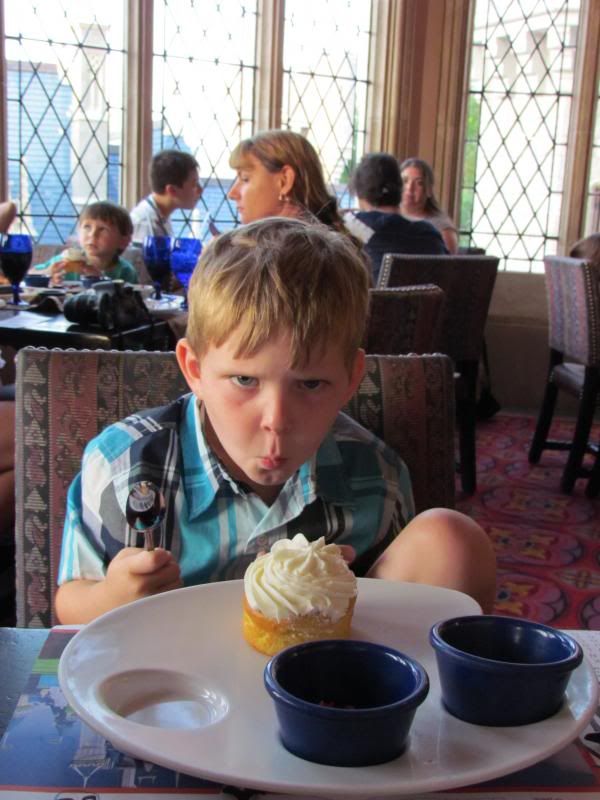 He caught me sneaking a pic of him
And the silliness continues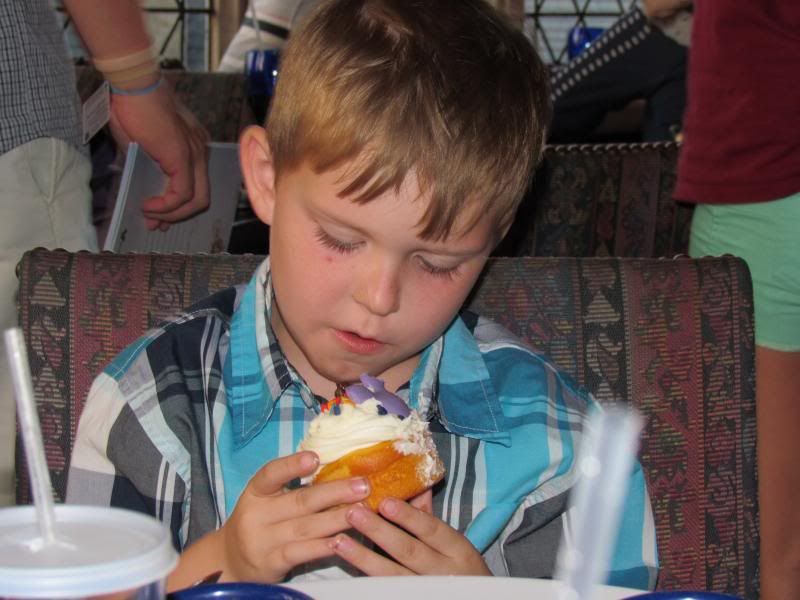 Admiring his creation
She loved hers!!!
Between the amazing food, the beautiful Princesses, and the outstanding decor, everyone should experience a meal in Cinderella's Castle! You can have breakfast, lunch or dinner. I've only been for dinner but I can only imagine how nice breakfast is. Plus, if you get a reservation before the park opens, you have the opportunity to get amazing pictures. No crowds on Main Street or in front of the castle...what more could you ask for? There's the opportunity to get pictures in front of the castle with just you, your family, and the most iconic place in all of Disney. Don't think that this isn't on my agenda next! If you're there for dinner, try to get a reservation during the fireworks display and ask for a window table. It's definitely a magical experience. Either way, make sure you get your reservations early. The Castle tends to fill up months in advance (you can make reservations 180 days in advance) so make sure you get your table. Although you could get lucky like we did once and get a reservation the day before we headed up there.