Here I am again, all by my lonesome, in our big house. I really think there's something wrong with me that I'm not loving this feeling as much as I should. Oh well. I was in the mood to be a little random today so here goes......
~We survived Tropical Storm Isaac. And by survived I mean life went on as usual. The kids were off from school, the Hubs worked from home, and I went to work. I think we have worse weather during normal thunderstorms. Such is life in Florida during hurricane season. I am keeping my prayers aimed at the Gulf Coast where Isaac is supposed to make landfall.
~We signed Em up for dance this weekend. I feel like a complete fish out of water in this arena. I'm a sports girl. I've never done tutus and ballet slippers. I never imagined how expensive dance outfits are, especially for toddler sizes!!! I'm going to go broke! But she looks so dang cute and I know she's going to love every minute of it. Her first class is Saturday so you know I'll be there, camera in hand.
How perfect does she look?!?!?!?!
~The kids did well with their first week of school. We only had a minor meltdown this morning, courtesy of sweet Emily, who did not want to go back. But once she was there, she was fine.
~Saturday the Hubs planned a movie night for us. He popped in Knocked Up, one of the funniest movies ever! We can recite the whole movie. It's always fun to watch something that we both enjoy and end up in tears over. We've actually been having movie nights a lot, come to think of it. We've watched Hunger Games, Crazy Stupid Love, and now Knocked Up. Go us!!!
~I went to bed at 7pm on Sunday. Yes that is 7pm. Like before the kids went to bed. I woke up at 10:45pm, only because the cat wanted out of the room and then it was back to sleep until 6:15 the next morning. I think Noah thought it was funny I went to bed before him. And the worst part, I woke up completely exhausted. I'm hoping my lab results will shed some light on the subject (which I found out are sitting on my doctor's desk for review, which makes me very anxious)
~Speaking of labs, I have the most beautiful bruise on my right arm from the labs I had drawn on Wednesday. The phleb brutally attacked me with a HUGE needle. OK more like straight needled me with a 18g and kept messing around with the tubs so they would fill. Worst lab draw ever!!!!!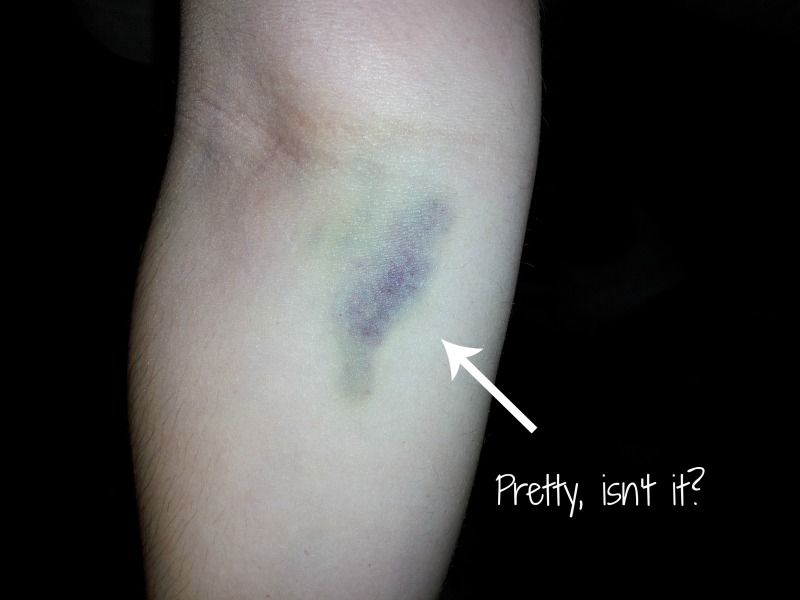 It looks like the Hubs beats me. Which he doesn't. I'm almost embarrassed by it.
~I finished a great book last night. Becca let me borrow it weeks ago and I just couldn't get into it...aka...I fell asleep every time I read it. I read over half the book last night and it was intense. You need to go out and get
Gone Girl
by Gillian Flynn. It will be worth it, I promise.
~Today is my last day off during the week for a long time. My schedule changes next week. I'll start working 7-3 (3:30) Monday-Friday. I'm excited for the change because it will mean more family time, less eating out, and more control over my life. I'm definitely going to miss a day off during the week and only having to work 4 days a week but my family comes first and this is what we need.
~Now I'm off to either a)start another book b)catch up on Days or c)curl up in my bed and sleep for the rest of the day (yes I'm still that tired)
~And another ballet picture, just because: