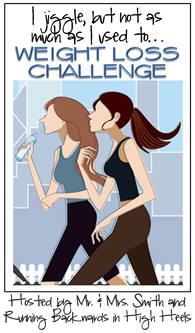 I'm going to link up with
Lindsey
and
Rachel
this week even though I was really bad and didn't even weigh myself. I ate horribly, drank way too much soda, and all in all, feel pretty horrible. I can't wait for the weekend because I plan on getting some good runs in (in hopes that it will kick start my training) and I hope to get some much needed sleep. I am very aware of my throat so I really hope that I'm not going to get sick.
But even though I really didn't participate much this week, I still have goals for next week. I intend to stop drinking all the soda. I don't really know why I started drinking so much. Even the Hubs noticed I was drinking more soda than I usually do. I'm drinking a ton more water since I can have it readily available at work. I'm also going to pass up on the trips to Dairy Queen. A DQ opened right around the corner and I may have had a Blizzard (or two) this week. Have you ever looked at the Nutritional Guide for Blizzards? If you haven't, don't. It's just scary. I even got one with fruit in it, instead of cookies/chocolate and it was still ENOROMOUSLY bad for me. But it tasted good at the time. I also plan on running. I mean it this time. I need to get my booty in gear. Anyone have any good motivation for me? I just can't seem to get into it right now. I need to get focused on a lot of things in my life right now.
We've had a ton go on over the last week or two. I'll start updating on that soon. But I'll leave you tonight with some pics from Noah's Spring Performance. He was the cutest sleuthing bunny ever!

Noah's in the blue shirt and khaki pants

Looking for the Easter Eggs
He really got into it
Watching her big brother
I'm going to try to get on here this weekend but if I don't, Happy Mother's Day to all the Mama's out there!!!