Things have been so crazy for me right now. Monday we got a call saying my grandmother, who had been in the hospital, was being transferred to ICU and was put on a ventilator. So we all rushed up there (my grandparents live 2 hours away) to learn that they had to do CPR to bring her back and that her lungs filled up with fluid. Being in a situation like that is so hard for me because it's instinct to jump right into nursing mode the minute I walk on to an inpatient unit rather than being a scared, nervous family member. Maybe it's a coping strategy. I don't really know. But needless to say, it's been a rough week. I am excited to say that she was extubated on Tuesday and doing pretty good. She still has some fluid in her lungs but her heart seems to be hanging in there.
So if you don't mind, can you keep my grandma and my family in your prayers, especially as Christmas draws near? It would really mean the world to me.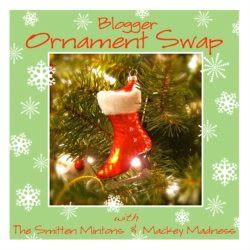 This Christmas season I have really experienced how amazing the Blogging Community is. Whether it be through Christmas card exchanges, ornament swaps, or just amazing sweet comments, I really feel a part of this crazy world of blogging. I received the best Christmas cards from my amazing card swap girlies (and I hope they feel the same way!!!).
I also got paired with a pretty awesome chica named
Ashley
for our Ornament Swap. She is super cute and just ran a half marathon (I still say you should come to St Pete and run with me!!!)
How cute is she??? And check out that scenery...jealous!!!
She sent me the best ornaments. Much like me, she couldn't decide on just 1. I got 3!!! (I sent her 3 ornaments too!) They will be a great addition to my ornament collection and I'm so excited to always have something to remind me of Ashley for years to come.
Can you see me?!?!
I love the colors, the sparkle factor, all of it!!! Thank you so much Ashley for sending me amazing ornaments!!! I absolutely adore them!!!
Now that I'm looking at only 3ish hours of sleep before getting up for work (and after making 17 containers of Peppermint Sugar Scrub), it's time to hit the sack.
Happy Friday everyone!!!!