Ever since I can remember, we always spent time with my Grandparents. I have memories of going to Orlando for a weekend with my Mom and Grandma, grabbing a hotel, and just wandering through all the Disney hotels and Downtown Disney (back then it was just Lake Buena Vista). We would spend days up at my Grandparent's house in Leesburg, fishing from the docks, riding our bikes, swimming all day long, and getting ice cream from the office every afternoon. Then they stopped traveling as much. We were lucky if they came down to celebrate Christmas with the family. They never came to a birthday party for my kids. They were just getting too old and too unhealthy to travel. It saddens me to think that my kids don't really know my grandparents and now that both of my Grandpa's have passed away, they'll never get that experience. So that is why this trip means so much to me.
My Grandma is having a very hard time learning to live without my Grandpa. She just doesn't know how to function without him. And she's in such bad health that she can't really take care of herself. So my mom took a week out of her vacation to stay with her. All Grandma wanted to do was get a hotel room in Orlando that had a balcony, so she could just sit outside. Mom made it happen for her and we went up to join them overnight. I loaded up the kiddos and my brother's gf Sharon and we headed up to Orlando to do something we've never done on any of our trips to Orlando....just hang out at the hotel. We got up there and instantly hit the pool. The kids love swimming and my mom enjoyed swimming with them and I caught my Grandma smiling as she watched them. Mom took Grandma back to the room when she got too tired and then we grabbed lunch at the poolside restaurant. Em got stung by her first wasp and thankfully she didn't have too bad of a reaction (the Hubs is allergic to bees and wasps). Then it was back to the rooms and relaxation time. Or so I thought....
Noah is currently OBSESSED with Legos. There's a Lego store at Downtown Disney so we headed down there. My grandma wasn't up to going so she stayed at the hotel. We wandered through all the shops, hit the Lego store, grabbed a Goofy icee (in memory of my dad....I guess he gets one every time he goes), and then headed home. My kids were in a great mood and wanted to pose for pictures whenever they could. This NEVER happens so we took full advantage of it. Then we headed back home to have dinner with Grandma. When we got back to the hotel, my grandma was on her balcony and Noah instantly headed out to be with her. He was excited to show her the Lego sets he bought and wanted to share with her all he knew about them. I was fortunate enough to snap a quick picture of this precious moment that I will cherish forever.
After dinner, I proved my awesomeness to my son and built both of his Lego sets in record time. Mommy isn't the one who usually helps with the Legos so it was quite the accomplishment. You could see Epcot from our hotel room (or the giant golfball as my kids call it) so we watched the fireworks and headed to bed. The next morning, Sharon and I decided to take the kids to Animal Kingdom for an hour or two (oh the beauty of having an annual pass...being able to go for an hour and not feel like we wasted money) but that turned into a disaster as the skies opened and dumped buckets of water all over us. So we packed it up, dried off as best as we could, and headed to Leesburg to pick up my mom from Grandma's and bring her back home. It was hard saying goodbye to my grandma because I knew it would be the first night since my grandpa passed that she would be in the house by herself. I just can't imagine going through what she's going through right now. I know they say time will heal but for my grandma's sake, I wish she'd find peace sooner than later.
Here are a few (a lot) of pics from our trip:
Miss Hollywood ready for our trip
Our amazing view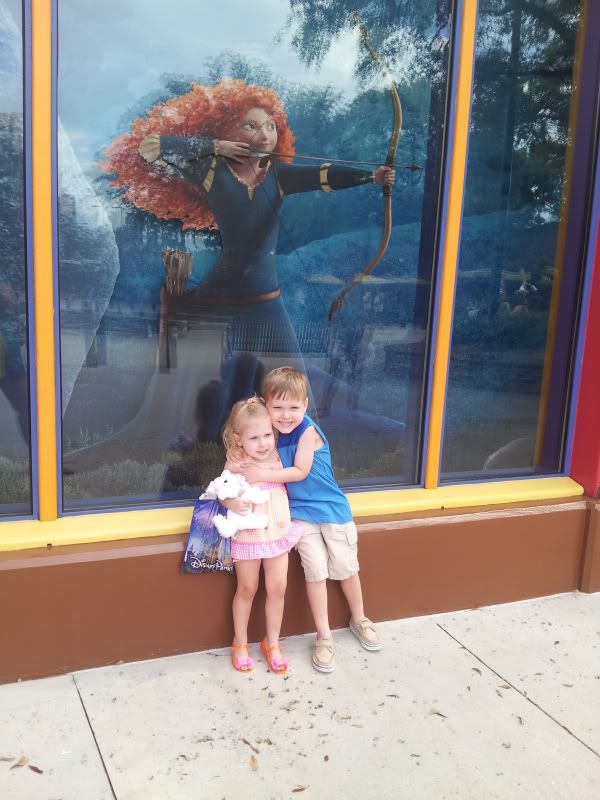 Naturally we took a picture with Merida from Brave
Goofy Icee's for Dad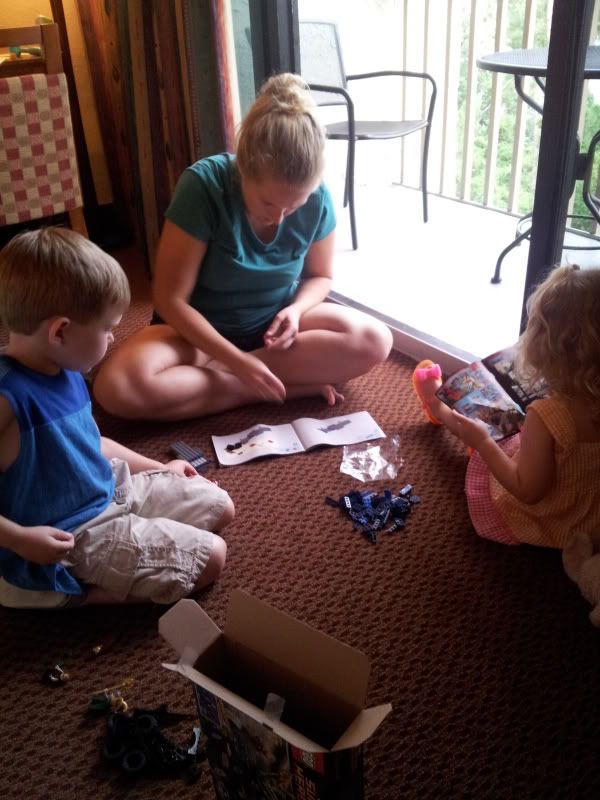 Family Lego Time
My new favorite picture
I can't wait to continue enjoying little moments like this trip while my grandma is still with us. We forgot to get a picture of her, my mom, me and Em for a 4 generation picture but it's high on my priority list for the next visit.