I didn't link up last week but have no fear, I'm back for Sunday Social this week! This week is all about shopping..one of my loves!!!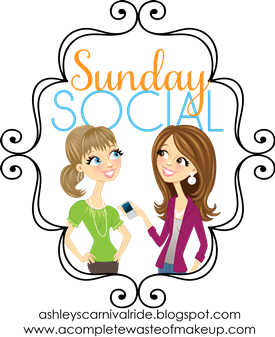 What is your favorite store to shop at?
I have to go with two places....The Loft and New York & Company. I worked at NY&Co for years. I met some amazing friends there, spent a ton of money, and stocked up my closet. While I'm not in agreement with the vision the company has right now, it's still a go to store for me. And what can I say about Loft? It's amazing. I love everything about it. At any given time, you can walk into that store and it's totally my style! Plus they have amazing sales!!! I'm also slowly falling in love with White House/Black Market.
If you could afford anything and everything, which designer brand would you covet?
Tory Burch. It's bold, quirky, fun yet classic all at the same time. I have 2 pairs of shoes (thanks Hubs!!!) with my eye on a handful more and I'm planning on getting a pair of TB glasses when it's time to get my eyes checked again.
Must have closet staple?
A great pair of jeans and a great pair of khakis. I just so happen to have both and go figure, they're from Loft!!!
Favorite kind of shoes?
I'm a flip flop/sandal kind of girl. I'm born and raised in Florida. We were flip flops in the winter. It drives the Hubs crazy that I really don't own many closed toe shoes but I can't help it. I love sandals! I will say though, I'm a big fan of ballet flats too!
Best clothing deal you've ever gotten?
I have a couple. First I have to thank my mom for instilling in me the value of the clearance rack. I can find the most amazing deals there. Last week I got a pair of $80 trouser jeans for $4.88 at Loft (I ended up buying 2 pairs). I've also bought a really cute dressy top from Loft for $1.88. About 10 years ago I found a BCBG skirt that was originally well over $300 for a whopping $12! I tend to panic a little if I have to pay full price for clothing.
Style you'd love to try?
I would love to be able to pull off a cute romper or colored skinnies. My body type just does not go well with either so I'll save everyone's eyes and stick to what I know works (no matter how much I want to try it!!!)
So where do you shop???