Today is the big day. The day I leave my kiddos with a teenager. Please send prayers my way (or actually towards the Hubs since he will have to deal with me) around 2pm. My kids are stoked. I'm in tears.
Anywho......
It's TV time on Sunday Social!!!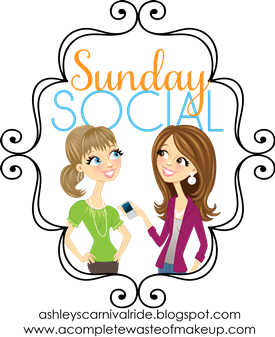 Favorite TV show of the past
: There are so many.....Gilmore Girls, 7th Heaven, Dawson's Creek, Saved by the Bell, Full House, Two Guys, a Girl, and a Pizza Place, Friends, Entourage....the list goes on and on
Favorite TV show currently:
Big Bang Theory, Once Upon a Time, True Blood, Restaurant:Impossible, Glee, New Girl, Days of our Lives (yes I watch soaps)
Which Reality Show would you NEVER do?
I pretty much would never do any reality show that involves living in the elements, eating bugs, or anything gross for that matter. So I guess Survivor and Fear Factor are definitely out for this girl!
Which Reality Show would you LOVE to do?
Project Runway for sure! Not only would it be awesome to participate in those design challenges, I'd just love to be living in NYC, hanging with Heidi, Michael Kors and Nina Garcia. But I'd actually need to know how to sew I guess....
TV personality/character that you feel is most like you?
I don't really know the answer to this one but I'll give you the Hubs's answer to this. He always says that I'm Penny from Big Bang Theory for a few reasons (and not because I'm as skinny or as cute as she is). Big Bang Theory sums up my life. The Hubs is a comic book nerd. Like he goes to the comic book store every Wednesday, he's constantly wearing a comic related tshirt, he has conversations about it, he has figures....it's bad. One day I'll post a picture of my garage. So I'm Penny because I'm the normal girl who has begun to understand the comic crazy yet still thinks he's a nerd for it. I'm also a tad ditzy just like her.
TV character you'd want to date?
I'm a big fan of most of the men on True Blood. Give me some Jason Stackhouse, Alcide, Eric Northman (shirts off please) and I'm a happy happy girl!!!